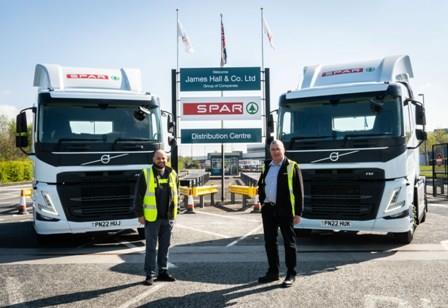 James Hall & Co has added three new Volvo tractor units to its fleet using Carrier's Ecodrive refrigeration system to cool its multi-temperature double-deck trailers without a donkey engine.
Ecodrive uses a three-phase alternator driven by the tractor unit engine to drive the refrigeration unit, cutting carbon emissions and costs.
It is expected that the system will reduce carbon emissions by 8 tonnes every year while the Euro-6 tractor units are also more fuel efficient than the Euro-5 models they replace.
The trio of Volvo tractor units are in addition to the three new 18-tonne rigid Volvo trucks fitted with Carrier Syberia engineless refrigeration systems that James Hall & Co took delivery of in June 2021.
A further investment in a greener fleet is planned for later in 2022 and into 2023 with the delivery of the company's first refrigerated fully-electric articulated trailer as well as further tractor units and rigid trucks with lower carbon emissions.
Ian Farnworth, fleet engineering manager, said: "We're delighted with the new Volvo tractor units, and they are valuable additions to our fleet.
"Given that they are amongst our longest-distance vehicles delivering six days a week across the north of England, their improved efficiency and performance will make a considerable difference to our carbon footprint."