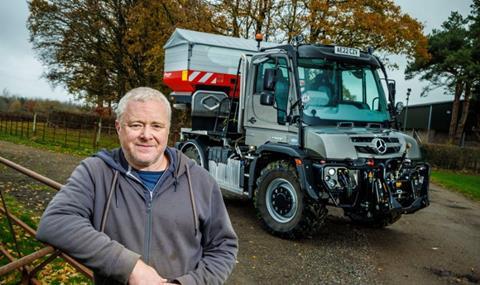 Oxfordshire arable grower Home Farm (Charlton) Estates has praised its "fantastically versatile" new Mercedes-Benz Unimog for its all-terrain capabilities.
Supplied by local dealer Arthur Ibbett, the UGE U430 implement carrier is also one of the first in the UK to be fitted with a comfort steering option, which reduces steering force required at the wheel.
The company grows combinable crops such as wheat, barley and oilseed rape on 175 hectares of land in Wantage.
Home Farm owner Ralph Castle (pictured) said: "Before placing my order I tried versions with and without comfort steering.
"It was immediately apparent that the system would make working with implements on rough ground much easier, but the fact that we could also fit an automated steering package was even more important to me."
He added: "The Unimog performs very well on the road – it has a much higher cruising speed than a tractor, and it offers far better fuel economy as well. It's perfectly capable of working in the fields too.
"It's a fantastically versatile tool, and will be worked hard all year round throughout the growing cycle."