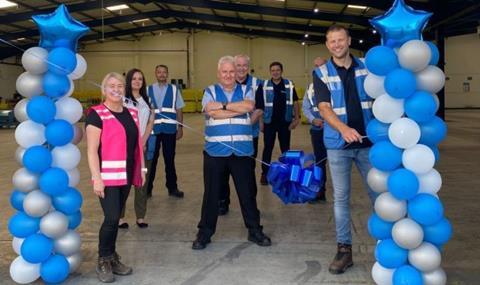 Hermes UK has opened a 'pop-up' distribution depot in Eccles to handle the Black Friday and Christmas peaks.
The delivery firm said over 65 temporary jobs had been created at the 80,000 sq ft warehouse and it will be able to handle more than 120,000 parcels each day.
The temporary shed forms part of its investment programme to expand its capacity in order to meet the demand created by people shopping at home during lockdown and growth in the sector.
Hermes said online retail was the main driver of growth in parcel delivery volumes, combined with increasing consumer preference for shopping online through e-commerce portals.
Read more
It estimated that it would see record parcel volumes later this year.
Hermes also said unemployment in Manchester had reached a "crisis point", with hundreds of thousands of jobs in shutdown sectors, such as restaurants, hotels and leisure services.
Tony Doherty, depot manager, said: "We're delighted to be opening a new depot for Hermes to support our growing business.
"The team at Eccles have worked incredibly hard to prepare the site for what will be one of the busiest periods of the year and ensure that our customers continue to receive a fantastic service."