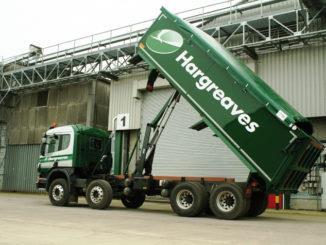 Revenues at Hargreaves Services fell by 7.9% in the year ending 31 May 2021, largely due to a delayed start to the HS2 contract.
The group reported total revenues of £204.8m compared to £222.2m in the previous year, but chairman Roger McDowell said it was "a very strong set of results" delivered against a backdrop of the Covid-19 pandemic.
Pre-tax profit was £14.4m (£2.2m), with underlying profit before tax £16.3m higher than the previous year, at £21.2m.
The group said the increase was predominantly due to the performances of the group's German joint venture, Hargreaves Raw Materials Services GmbH and a joint venture within its Land division.
Read more
In a group business review, group chief executive Gordon Banham said the £16.8m fall in revenue and a pre-tax loss prior to exceptional items of £2.4m within its earthworks division "was caused by the delay to the full mobilisation of the HS2 project following the completion of the successful A14 project in the prior year."
He said: "In March 2021, the business was appointed by the Kier/Eiffage/Bam/Ferrovial joint venture to carry out a £120m earthmoving contract on the C2 section of the HS2 rail project centres around Aylesbury, providing strong visibility of revenue for the next four years.
"Although works on site have now commenced, the programme of activity is likely to be weighted to the second half of the year ending 31 May 2022."