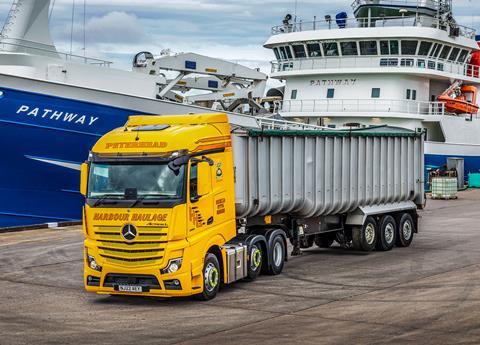 Peterhead-based Harbour Haulage has taken delivery of a premium-specification Actros L.
The new truck, which wears Harbour Haulage's bright yellow livery, arrived in April, via Aberdeen dealer BLS Truck & Van.
The vehicle is earning its keep transporting fish offal and other seafood-related products used in the manufacture of fertilisers and animal feed, to customers throughout Scotland.
The Actros L is aimed at long-distance hauliers and heavy-duty distribution operators. Highlights include sophisticated aerodynamics, quieter cabs with improved heat insulation, and a lower, more comfortable seating position that also provides improved visibility.
Actros L customers can choose from GigaSpace, BigSpace and StreamSpace cabs, all of which are 2.5m wide and have flat floors. As well as four-wheel and six-wheeled tractor units with single or double drive axles, Actros Ls are available as 18-tonne and 26-tonne rigid chassis. All are additionally equipped with a full complement of Mercedes-Benz technology.
Harbour Haulage's 2551 variant comes with a 12.8-litre 'straight-six' engine that produces 375kW (510 hp) and has the lowest Streamspace cab. It also has 1,970 mm headroom between the seats and includes rear wall lockers, a fridge and a microwave.
The specification reflects the fact that while some deliveries will be made with a curtainside trailer, the truck works more frequently with a bulker. To free up space for its tipping gear, Bailey Hydraulics, of Wisbech, removed and replaced the standard fuel tank with an aluminium combination tank for diesel and hydraulic oil.
The Actros L joins Harbour Haulage's seven other tractor units, one of which is a 2016 Actros. The vehicle was acquired with funding support from Mercedes-Benz Finance and will be inspected and maintained by BLS Truck & Van, under a three-year Mercedes-Benz Complete Service Contract.
Director Raymond Simpson said cost was a major factor in the firm's decision to choose an Actros L. "Our established supplier's prices have gone through the roof, and that applies to the servicing as well as the cost of the vehicles themselves. Also, though, BLS sales executive Chris Dyer impressed me. He's a good guy and very enthusiastic, and he really wanted to sell me a truck."
Read more
Explaining his choice of cab, Simpson said: "We make a regular run for a major customer that takes the truck under a relatively low bridge on the west coast, near Inverawe. The BigSpace would probably get under it but we wanted to leave a margin so opted for the StreamSpace instead."
Simpson added that Bulgarian driver Ivelin Lesev has been rewarded with the keys of the new vehicle, after taking "meticulous" care of his previous vehicle.
"Ivelin spends three or four nights in his cab each week and he's delighted with the comfort of his Actros L," Simpson said, adding: "It looks fantastic in our colour scheme, too. If the truck performs as well and proves as cost-effective to operate as I confidently expect, then our decision to place this order with Mercedes-Benz will certainly have been vindicated."
Raymond Simpson is also a director of Aberdeen-based transport firm R&J Simpson, which operates around 30 Mercedes Benz six-wheeled rigids. BLS Truck & Van, which was appointed in 2018 to represent the Mercedes-Benz and FUSO brands in the north of Scotland, recently won an order from R&J Simpson for another two Actros six-wheelers.
Simpson said: "Harbour Haulage was an all-Mercedes-Benz operation back in the late 1990s. The trucks were reliable and fuel-efficient, but we moved away from the brand because the aftersales back-up at the time wasn't up to scratch.
"From the little I've seen so far, BLS Truck & Van looks professional and well managed. Having delivered the Actros L it now has a proper foot in the door. I'm optimistic the dealer will make the most of this opportunity to prove itself."