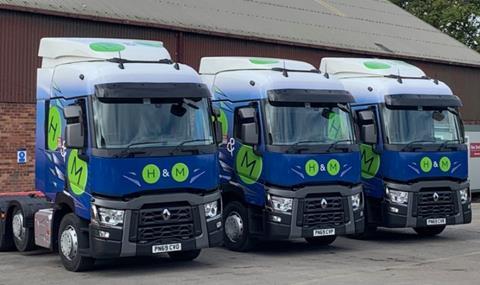 H&M Distribution has renewed its contract with Palletways and will continue handling freight into the network for the next 10 years.
MD Dean Woodyer said it had reviewed all the other pallet networks before concluding Palletways would help realise its goals.
"We've been part of the Palletways family for 14 years and we've experienced significant growth during that time - we've expanded our depot coverage throughout the UK and grown our customer base which has come to rely on the level of service we're able to offer as a result of being part of the network," he said.
"Palletways' IT function along with its service excellence are clear differentiators within the industry and as such, the opportunity to continue our membership is of great value to us as a business."
The contract renewal has seen H&M invest more than £1m into its fleet in 2021, as well as investments in its depots.
Woodyer said the company believed it was now "a real alternative" to the bigger operators, with it able to offer network coverage, full loads, groupage services and warehousing: "There remain challenges to overcome," he added. "The main one being the well-documented driver shortage.
"However our 'Evolution of Van' on-the-job training programme, along with a healthy working environment, will go some way to help protect us from this issue."
Rob Gittins, Palletways MD, said the decade-long deal reinforced its position as the "network of choice".