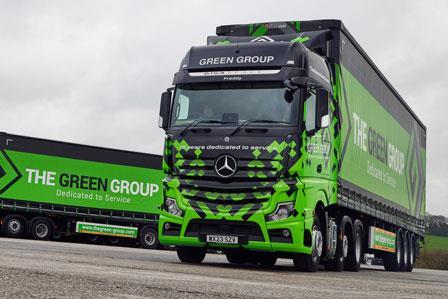 The Green Group has ordered 101 new Mercedes-Benz Actros trucks from Asset Alliance, in what it said was one of the most significant deals of the year.
The Yorkshire logistics firm sourced 86 BigSpace tractor units from Asset Alliance and an additional 15 GigaSpace trucks will join the fleet to help mark its 15th anniversary. All are being supplied on a three-year contract hire basis and the trucks are part of a major renewal programme of The Green Group's 150-strong fleet.
MD Tom Lister said: "These trucks will be serving a lot of blue-chip customers, covering about 120,000 km per year, so reliability, increased uptimes and the latest technology are all really important for us and will help in enhancing our credibility as a national logistics provider.
"Bringing these new assets on board will also really help in driver comfort and retention, further improving the image of the business."
Lister added: "Our business has expanded rapidly since we formed in 2008 and we were keen to mark our successful achievements in style.
"Discussions with Asset Alliance Group made it possible to bring in these high-spec trucks, which will help our anniversary celebrations go with a real bang."
Asset Alliance sales director Paul Wright said: "Providing this substantial order for The Green Group is a significant deal for us. It underlines our buying power in a challenging market and our capacity to deliver to satisfy customers' needs."