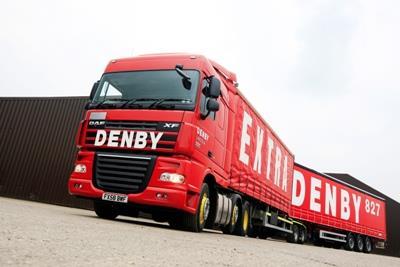 The government's decision to end licensing restrictions on running longer semi-trailers (LSTs) could add momentum to DfT's plans to launch a trial of longer heavier vehicles (LHVs), according to industry experts.
The end of licensing restrictions on LSTs of up to 18.55 metres - over two metres above the standard size – announced on 10 May will begin next week (31 May).
The move follows an 11-year road trial involving almost 3,000 longer semi-trailers (LSTs) and over 300 operators including major brands such as Greggs, Morrisons, Stobart, Royal Mail and Argos.
Kevin Buck, Hazcomp managing director, who has long lobbied for the use of LHVs, welcomed the news but believes the DfT should have gone further.
He said: "It is worth noting that the initial uptake of the LST was a cautious one, to say the least. I'm sure this was partly driven by the uncertainty of the practicality of using them, but also because of the missed opportunity to operate at 48 tonnes instead of 44 tonnes.
"Essentially what the LST at 44 tonnes offered was some additional volumetric space only when a double decker could not be used.
"The decision not to operate at 48 tonnes, means it created a niche use for the LST, as additional volume was already available to operators, due to the UK's unique position of being able to operate trailers to a height of 16ft 3 inches (4.9m). This is not the case in the EU, which is restricted to 4.2m."
Buck added that he believes the announcement on LSTs now opens the door for the trial of LHVs in the UK. This is currently being considered by the DfT, which announced last year it was looking for operators willing to trial LHVs up to 25.25m in length and at 60 tonnes gross vehicle weight (GVW). A consultation was also launched which closed in March, and the DfT is currently considering its findings.
Read more
Buck said the move was long overdue considering seven European countries have been operating LHVs up to lengths of 35mts and 75 tonnes for some years.
He added: "At the beginning of the year, I attended a meeting at the Denby Logistics Centre in Lincolnshire with the DfT's consultants working on this project, so they could see the only operational LHV in the UK and we could discuss operational practicalities.
"I have also recently met with the Under Secretary of State for Transport, Richard Holden MP to discuss this. Richard remains committed to making this happen and I will be meeting up with him again in the summer to discuss progress."
The LHV which DFT consultants witnessed in action at the Denby Logistics Centre is the Denby Eco-link (pictured), a 60-tonne GCW, 25.25 metre, eight-axle combination, where a tractor unit pulls two semi-trailers, using fifth wheel couplings on both trailers.
Dick Denby, chairman of Lincolnshire haulier Denby Transport has been lobbying for years for the Eco-Link to be trialled on the UK's roads.
Asked for his views on the DfT's announcement on LSTs, Denby told MT: "Whereas the DfT like to trumpet great achievements in terms of emission savings with LSTs this figure would be three-fold if LHVs were used."
Trailer manufacturer Don-Bur gave a qualified welcome to the LST announcement this week. Richard Owens, Don-Bur technical support specialist and marketing manager, said: "Many operators involved in the current trial will already be aware of the restrictions presented by a heavier unladen weight combined with a continued maximum Gross Vehicle Weight of 44 tonnes.
"We would highlight to anyone considering an LST that although you can carry up to an additional eight UK pallets on a double deck LST, your payload weight is likely to be restricted from that of a standard 13.7m trailer.
"LSTs will lend themselves well to operations with a less dense payload such as clothing, parcels, insulation materials and crisps for example.
He added: "Interestingly, general hauliers used to putting 26 pallets onto a standard length curtainsider may already be close to the 44T GVW limit and could be putting themselves at risk of overloading if presented with an opportunity to add another four pallets at the rear of an LST.
"Whilst we do expect demand for new LSTs to increase following parliamentary assent, we do not expect them to overtake the core requirement for standard length trailers."
Paul Bratton, SDC Trailers president, hailed the DfT's decision on LSTs and said the company was gearing up for increased demand for LSTs with a range of vehicle options on offer.
He said: "The confirmed legislation of LSTs in Great britain is a positive move for operators and SDC are ready to cater to the rising demand for these vehicles.
"By fully utilising the extended length of these trailers, operators can significantly enhance productivity levels, achieve economic savings, and reduce carbon emissions, thereby fostering a more sustainable road transport industry."