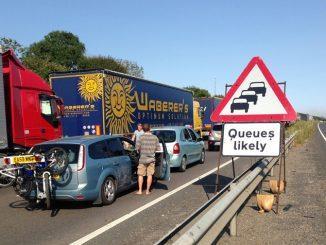 Government plans could see HGV drivers heading to Dover and Folkestone ports held in off-road, virtual queues, in Kent and beyond, to prevent the 20-mile long queues to the Channel Ports seen last year.
The DfT is putting out a tender for a specialist supplier to look at the feasibility of using a technology system that could manage queues, prevent crippling delays to the Channel Ports and reduce the "inconvenience to hauliers and residents of Kent".
The project is part of government efforts to avoid the major disruption caused on the M20 and A20 heading into Dover last year which saw HGV drivers trapped in their trucks for days.
Read more
Post-Brexit border checks can take up to 15 minutes per vehicle and have seen queues of lorries reach as long as 20 miles down the M20 and A20 roads, with some drivers reporting 12-hour delays to get to port, as a result of hitches with the border checks.
The DfT is looking at establishing a management process which would enable lorries to wait in a virtual queue while remaining at "off-road sites in Kent" – or even further away - using a system that can be accessed by HGV drivers, hauliers and truck stop operators, police, Kent County Council, and National Highways and DVSA officials.
The department will launch an initial discovery phase next month, looking at potential challenges to using such a system, including "whether there would need to be a requirement to have some form of real time communication with hauliers, and how this could be done safely and at low cost".