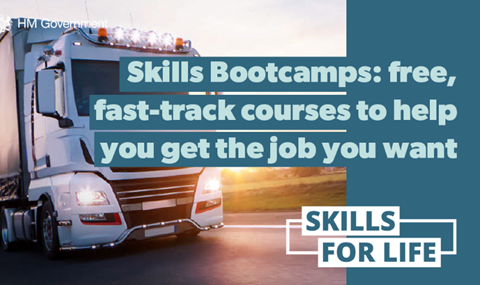 The government has extended its HGV Skills Boot Camps HGV driver training scheme with plans to train another 2,160 candidates over the next 12 months to create almost 2,000 new drivers in the logistics sector.
Driver Academy Group (DAG), a consortium led by HGV training specialist HGVC and including Manpower and Logistics UK, has been awarded the lead role in the extension of the scheme by the Department for Education (DfE).
The extended programme went live on 1 April 2023 and is open to any individual holding a driver's licence for over three years or businesses looking to upskill their existing staff. The training courses are available at 60 locations across the country.
Under the new contract, DAG will deliver 1,300 partially funded courses. These offer employers a 70% contribution to HGV driver training through the DfE funding. In addition, HGVC will deliver 860 fully funded courses, aimed at individual candidates.
DAG's 2023/24 programme will primarily focus on the novice training pathways, helping novice drivers gain their Category C licence, a Category C+E licence or helping those with a Category C licence upgrade to a Category C+E.
Companies looking to upskill existing drivers can also apply for government funding of 70% of the scheme's cost.
The Skills Bootcamps programme in HGV driving was launched in December 2021 in a bid to tackle the UK's HGV driver shortage crisis.
Since its launch, DAG has trained around 1,400 drivers. Some 1,070 trainees have now passed their practical test and are ready to drive. In addition, 535 drivers are now in jobs and a further 400 have secured interviews.
Read more
Of the 1,400 drivers trained by DAG in the original programme, 662 of these are new drivers that have now gained their HGV licence, while another 457 are existing HGV drivers who have gained new skills. Qualified drivers are securing starting salaries of up to £40,000, according to DAG.
The programme also boasts a record number of applications from women, ethnic minorities and younger people. The consortium received more than 10% of applications from female candidates, significantly more than the 1.5% of women who are HGV drivers in the UK currently.
The group also received nearly a quarter of its applications from black, Asian, and other ethnic minority groups. Currently, just 4% of HGV drivers are from ethnically diverse backgrounds.
In addition, approximately 30% of applicants were under the age of 36, a significant step forward when the average age of an HGV driver today is around 50.
James Clifford, chief executive of HGVC, said: "We're immensely proud to have been re-appointed on this hugely significant scheme. This is a major acknowledgement of our success and the positive impact that the Skills Bootcamps have had to date in getting new HGV drivers behind the wheel.
"Yet, while the immediate short-term driver shortage has abated, the long-term chronic shortage persists. As we've seen, thousands of people in the UK want to become lorry drivers. With further funding, we're confident we can train even more people in the UK, close the longer-term shortfall of drivers and keep Britain moving.
"Fully qualified drivers coming through the existing scheme are ready to go straight into roles. What's more, for employers re-considering training budgets, this is a huge opportunity to secure 70% of the funding to train new drivers or existing staff. While the economy continues to face some major challenges, this scheme really is a lifeline for the UK's logistics industry."
Both candidates and businesses can apply at www.hgv.academy.