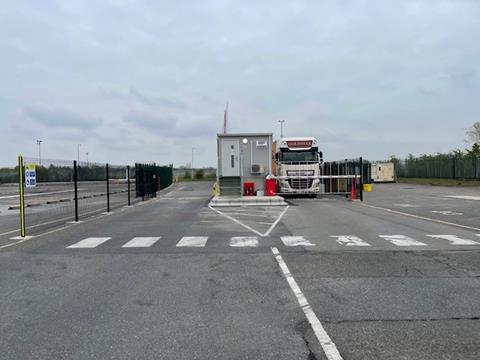 Goldstar Transport has opened a 70-space truckstop at Tilbury Docks, offering secure parking, washing facilities and hot food.
The East Anglian haulage business, now owned by Turners, bought the land close to the docks six months ago and general manager Steve Jones told motortransport.co.uk part of it had to be used for HGV parking.
"It's subject to a Section 106 agreement," he said. "As part of the planning agreement at Tilbury Docks there must be a certain amount of space for off-road parking."
Jones said the land purchase was primarily to consolidate Goldstar's existing three yards into one site, but it has invested a significant amount of money in order to offer lorry drivers safe overnight parking.
The truckstop includes full fencing, lighting, CCTV surveillance and 24:7 guards, as well as an equipped kitchen for heating and preparing food and also a 'food truck'. "This is a mobile wagon on the site, based there permanently," he said. "A local catering company is offering hot meals to drivers."
In 2021, Goldstar Transport said solving the driver crisis could only be achieved if the poor quality of rest stops and security for HGVs around the UK was overhauled.