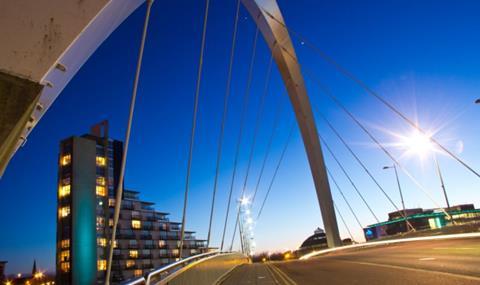 Glasgow has been voted the top city for HGV drivers to deliver to after a survey found the people were friendly and the roads were well laid out.
Over one in 10 truckers (12%) gave the Scottish city their vote and cited the good traffic conditions and easy-to-find locations.
Manchester was voted second best city for hauliers, with London coming third.
Liam Wood, an Essex-based HGV driver, said: "I seem to find places easy to find in Glasgow.
"It must have something to do with the signage. The roads are nicely spaced, and you don't feel like you have to squeeze past with one eye open - as you do in some towns.
"I've delivered to Glasgow many times over the years and never had a bad experience," he added.
"I'm always treated nicely and had the odd cuppa made for me.
"Some guys have even helped me with the strapping and curtains - you don't get that in many places."
Another driver who is a fan of Glasgow, Bryan Greig, said: "Everything is pretty near a major road in Glasgow.
"Wherever you're going, you're not far from the dual carriageway."
Cashless payment system SNAP, which conducted the poll, said Glasgow had set the standard for other UK cities.
Mark Garner, SNAP MD, added: "Mimicking the traffic prevention methods and road layout in other big cities could help ease the burden on HGV drivers at a time when the haulage industry is under immense pressure and needs assistance."
• The Top 10 delivery cities were:
1. Glasgow
2. Manchester
3. London
4. Liverpool
5. Edinburgh
6. Milton Keynes
7. Coventry
8. Newcastle
9. Nottingham
10. Birmingham