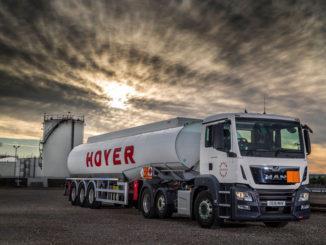 In the wake of securing an "inflation-busting" pay rise for JW Suckling tanker drivers last week, Unite is calling on Hoyer to resume pay talks and agree to give its tanker drivers a similar pay rise.
Both JW Suckling and Hoyer Tanker drivers are employed on the same Phillips 66 contract delivering to Jet Garages, but German haulage giant Hoyer has yet to agree a similar pay rise for its tanker drivers.
Failure to get back to negotiations could see fuel shortages at Jet Garages in the North West and beyond, the union is warning, with the Bramhall-based Hoyer tanker drivers set to strike from March 27 for a week.
Last week Unite secured a pay rise amounting to £11,000 per year for the JW Suckling tanker drivers who are based in Essex, Grangemouth and West London.
The JW Suckling pay deal brings the annual salaries of Unite members from £43,315 to £54,579 per year. The deal also includes improved overtime rates which will be increased by at least 29%, a 47% rise in bonuses and the introduction of callout payments and allowances.
Unite general secretary Sharon Graham said: "Unite has delivered this fantastic inflation-busting pay deal for JW Suckling Transport tanker drivers, negotiating an increase worth over £11,000 a year more for our members.
"Unite will always back our members when they fight for jobs, terms and conditions. The deal secured at JW Suckling Transport is another great example of a Unite win.
"It is now incumbent on Hoyer to enter into talks and begin paying its workers the same rates as all other tanker drivers on the contract. A failure to do so will result in Jet Garages across North West England swiftly running out of fuel."
The strike action by the Hoyer tanker drivers will affect Jet Garages in an area from Staffordshire to Carlisle.
Unite regional officer Nick West, who represents the JW Suckling drivers, added: "The JW Suckling Transport deal is a fantastic result for Unite's tanker drivers.
"It clearly demonstrates the power of being in a union and being a member of Unite. We are also pleased to have achieved pay parity for the JW Suckling drivers."