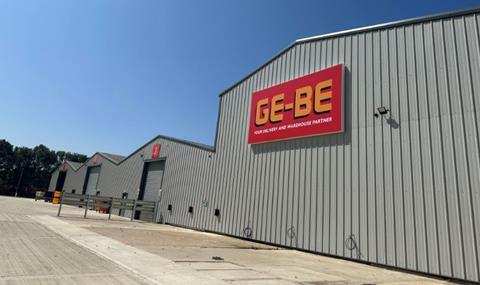 Palletways member Ge-Be Transport has invested more than £5m into new headquarters in Swaffham, Norfolk, as part of a strategy to diversify the firm's services and meet the growing demand of the business.
The new 435,600sq ft site will allow the family-run firm to offer warehousing and storage services for the first time, alongside the business's core transport and Palletways operations.
Ge-Be Transport will retain its current facilities in Kings Lynn to service customers in and around the area whilst the new Swaffham site will become the firm's new HQ, in a move aimed at future proofing the business and meeting growing demand from customers across the region.
The new facility can accommodate more than 2,000 pallets and it's already home to a number of high profile clients from the pet food, paper and catering equipment suppliers sectors.
The Swaffham premises also come with a large forecourt area that can accommodate Ge-Be's growing fleet of over 70 vehicles and 100 trailers. It also boasts warehousing, pick and pack, under cover cross docking areas and offices.
Read more
More than 100 employees will work at the new depot, collectively moving in excess of 1,700 pallets a day. The warehouse will also use a new warehouse management and CRM system to optimise and improve efficiencies and improve consignment speeds.
Carl Green, Ge-Be Transport MD, said: "This is an exciting time for Ge-Be Transport. Opening the new facility marks an opportunity for us as a business to lay the first foundation to scale up and diversify our service offering over the years to come.
"This is a significant investment for us, and it is a fantastic opportunity for our customers to grow into this new space. We are inundated with interest and have already had some great responses from our existing customers. Paired with the latest technologies Palletways can offer, these facilities will open many doors for us as a business."
Warwick Trimble, Palletways UK network director, added: "Ge-Be Transport is a solid contributor towards the growth of Palletways UK in the East of England and this investment will continue to strengthen our network in the region.
"The firm's recent success is testament to the hard work of the team and we look forward to celebrating their success over the months and years to come."