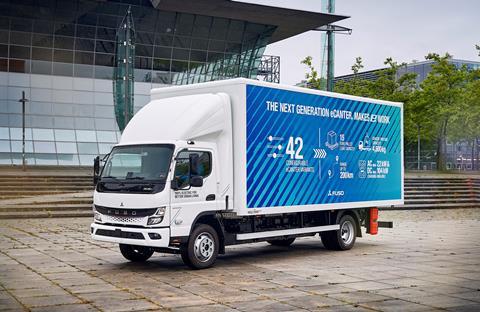 FUSO is showcasing its Next Generation eCanter at the IAA Transportation 2022 Show this week with a wider choice of wheelbases and weights.
While the current electric truck was previously only available as a 7.49-tonner with a wheelbase of 3,400 millimetres, the OEM is now offering customers a choice of six wheelbases between 2,500 and 4,750 millimetres and a permissible gross vehicle weight of 4.25 to 8.55 tonnes with a load capacity on the chassis of up to 5.0 tonnes.
The Next Generation eCanter comes powered either by a 110 kW (150 hp) electric motor in variants with gross weights of 4.25 and 6.0 tonnes, or a 129 kW (180 hp) electric motor in variants with gross weights of 7.49 and 8.55 tonnes. This optimised driveline delivers 430 Nm of torque; the maximum speed is 89 km/h.
Depending on the wheelbase, three different battery packs are available dubbed S, M and L. The batteries use lithium iron phosphate (LFP) cell technology. These are characterised above all by a long service life and more usable energy.
The battery pack in the S variant has a nominal capacity of 41 kWh and enables a range of up to 70 kilometres. In the M variant, the nominal capacity is 83 kWh and the range is up to 140 kilometres.
The L variant, as the most powerful package, offers a nominal capacity of 124 kWh and a range of up to 200 kilometres which the OEM said is significantly more than the distance usually covered each day in light distribution traffic.
Recuperation can increase the range even further, which at the same time minimises charging breaks. By comparison, until now, the eCanter only had a battery option with a nominal capacity of 81kWh and a range of up to 100 kilometres.
The Next Generation eCanter is also compatible with all main voltages in the major markets. The charging unit supports charging with both alternating current (AC) and direct current (DC). The Combined Charging System CCS is the charging standard, and charging is possible with up to 104 kW.
DC fast charging to 90% of capacity is possible in approximately 36 minutes (S), 44 minutes (M) and 75 minutes (L), depending on the battery pack. AC charging (11kW and 22 kW) takes between four and six hours, depending on the battery pack.
Read more
Standard highlights include a multifunction steering wheel with buttons for controlling the fully digital LCD instrument cluster, LED headlights that are 30% brighter than halogen models for increased visibility, the Autolight function for controlling the headlights depending on lighting conditions, and Intelligent Highbeam Assist.
The batteries are mounted under the vehicle's chassis frame with a rigid steel bracket that also serves as impact protection for the battery in the event of a frontal or side crash.
In the event of an accident, a crash sensor automatically deactivates the high-voltage system. To ensure the vehicle is more easily heard by pedestrians or cyclists, for example, the Next Generation eCanter is equipped with an external Acoustic Vehicle Alerting System (AVAS) as standard.
Active Side Guard Assist is also fitted as standard for safer left turns. The fifth-generation Active Brake Assist with pedestrian detection is also standard.
FUSO is also offering the Next Generation eCanter with a business ecosystem that includes tools and consulting services to ensure high vehicle utilisation and optimised total cost of ownership (TCO).
The Daimler Truck Incentive Tool can also give an overview of incentives and benefits such as specific government subsidies for vehicles or charging infrastructure as well as tax reductions or toll waivers.
Through a strategic partnership with EQUANS, customers can also obtain comprehensive advice on the subject of DC charging infrastructure and receive a complete service package. From charging technology and installation to coordination with the network operator.