Commercial Motor group technical editor Colin Barnett headed to last week's Freight in the City Expo at Alexandra Palace to check out some of the latest technology on show to facilitate urban deliveries...
There's nothing like a changing legislative landscape to encourage innovation, and there were plenty of examples of new urban logistics thinking debuting at Freight in the City.
Making its first UK appearance, the full-electric Fuso Canter was represented by a six-tonne E-Cell prototype, along with confirmation that the full production 7.5-tonne version, to be called eCanter, will be available in the UK from Q4 of 2017.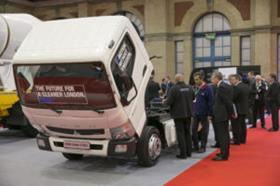 Meanwhile, Daimler says that there now around 75 Canter hybrids on British roads, where operators are reporting fuel savings of around 23% compared with diesel.
Also freshly arrived in the country was Volvo's fully type-approved CNG-powered FE, with a 320hp Cummins spark ignition engine and Allison transmission.
Volvo acknowledges that the main obstacle to overcome is the limited recharging infrastructure in the UK.
A small but significant change to the Dennis Elite 6 sees it fitted with a longer diff ratio to greatly improve its suitability for general commercial operations.
Dutch company Emoss was on hand with an MAN rigid converted to full electric operation. It reports growing UK interest in fields as diverse as an urban artic, operating as a mobile consolidation hub, to a 7.5-tonner for aircraft toilet emptying.
Essex-based Tevva continues to develop and demonstrate its range-extended electric truck, possibly the most feasible compromise for the current climate. Although the fact that type approval procedures are still not geared to converting new vehicles, the firm will continue to concentrate on retro-fit conversions, with a target of 200 units in the next two years.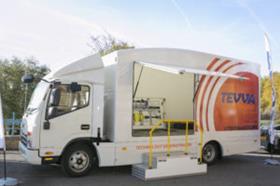 Lighter newcomers included the Turkish BD full-electric conversion of the Fiat Ducato, the hydrogen fuel cell Renault Kangoo from Arcola Energy, and a fully Clocs compliant Renault Trucks Master panel van.
The big story in the trailer world was the first sight of Cartwright's Streetwise. This new concept in urban deliveries is loaded via a conventional fixed dock. However, unloading is carried out at street level through central side-loading doors.
Cartwright's target market is multi-temperature multi-drop deliveries such as town centre convenience stores, fast food outlets and pubs.
The TransDEK Duet Urban also loads, and unloads, through the rear, but through a novel sash door system, which provides good security on the roadside. The trailer, which complies with the stringent Dutch PIEK noise requirements, can carry 29 UK pallets weighing 12-13 tonnes within a 10.6m length.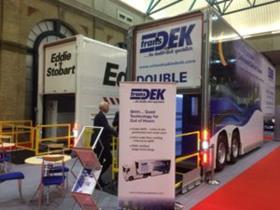 Stoneridge Electronics showed a Swedish Volvo FH equipped with its new camera-based mirror replacement system, MirrorEye. This uses up to six cameras and a range of interior display options to replace traditional mirrors and give a clear view all around the vehicle, even when turning and at night.
The compact system eliminates blind spots and improves fuel economy, and is going through EU type approval as an acceptable alternative to conventional mirrors.