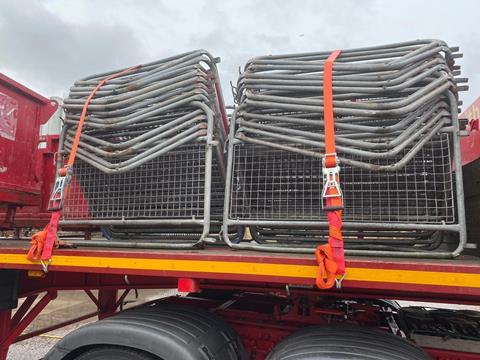 Start-up company Safe Straps is shining a light on the vital subject of load safety at Freight in the City Expo with its recently launched ratchet strap, which the company claims is the safest in the world.
Named the Boa Strap, the company's ratchet strap has been created to target the "settling effect" of loads which founder and director Paul Whyman believes is a key reason behind the failure or loosening of load straps, which puts drivers', employees' and road users' lives at serious risk.
"For far too long there have been very few solutions available to target and prevent incidents related to load restraint failure," he said.
"Timber, bulk bags of aggregates, brick and block haulage, heavy haulage, palletised goods, caged food, steel, car recovery, hay and straw, plant machinery, agricultural machinery, to name but a few, are at risk from the settling effect and are a large part of the problem."
Whyman pointed to government statistics which show that in 2019 alone there were over 5,549 incidents caused by ratchet strap debris on the UK's roads and between April 2013 to May 2020 there were more than 33,000 reports of ratchet strap debris on UK roads to Highways England.
Whyman added: "The numbers are increasing year on year and these statistics alone prove there is a large problem that needs to be addressed."
Enter the Boa Strap which, as it is tightened over the load, results in the springs extending with the slack webbing, replicating and increasing the standard tension force by 50% from 300kg to 450kg.
"It is this extra tension available that allows a load to settle and prevent it from failing or loosening. You can safely loose this tension which translates to 8.5mm/150kg - more than enough backup plan to prevent the failure and keep straps tight on the entire trip," he added.
Boa Strap will be showcasing its innovative ratchet strap at Freight in the City Expo this autumn, but in the meantime, take a look at the video below to see the system in action.
Freight in the City Expo is a free-to-attend one-day event focused on best practice operation and latest technology for urban freight deliveries. It takes place on 28 September at London's Alexandra Palace, so register today for your free pass.
https://youtu.be/RmhP6gpqLqU