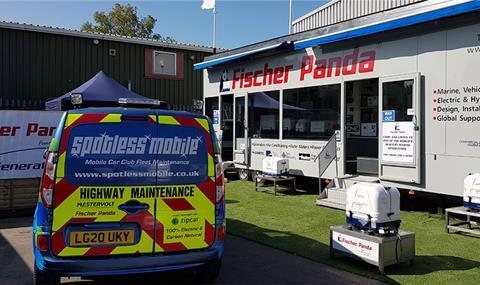 Fischer Panda UK, known for its compact, quiet, stage V compliant AC & DC vehicle generator sets, will be impressing attendees at Freight in the City Expo with its integrated hybrid power capability for zero-emission payload power systems.
At the event, the team will be proudly showcasing the system which can be designed to match individual onboard equipment or payload power requirements to enable the vehicle to operate within zero-emission zones.
It can also take the already quiet Panda generator to new levels to become totally silent and emission-free, making it ideal for those vehicles and trailers working at key operational times or in certain geographical zones.
Fischer Panda UK is also a Mastervolt distributor. The company recently worked with Mastervolt to design, supply and install the onboard auxiliary power system for a fleet of zero-emission electric vehicles for cleaning company Spotless Mobile.
Each new electric van was fitted with a zero-emission 230V power system to run pressure washers, vacuums and general cleaning equipment being operated throughout the working day.
After evaluating the power demands of the company's more conventional diesel vehicles, which used the alternator to power an inverter, together with its engineers' daily work cycles, a Mastervolt integrated power system was developed.
The Mastervolt system is designed so it does not impact on the vehicle's range, or the manufacturer's warranty, and is charged via a discrete independent waterproof 230V input socket mounted in the front grille, close to the standard EV charging port, so it can be charged overnight at the same time as the vehicle, via the adapted charging lead kit.
Even with the 230V onboard power supply, the vehicle can still enter and work in London`s Ultra Low Emission Zone and operate Congestion Charge free.
Tim Morris, chairman of Spotless Mobile, said he was "very impressed" with the concept system which he added has "exceeded our expectations."
He said: "We're now rolling the solution out in all our new electric vans, which has resulted in Spotless Mobile becoming carbon-neutral. This is a huge USP to our Car Club clients as their vehicles are usually located in cities and towns with congestion zones."
Freight in the City Expo is a free-to-attend one-day event focused on best practice operation and latest technology for urban freight deliveries. It takes place on 28 September at London's Alexandra Palace, so register today for your free pass.