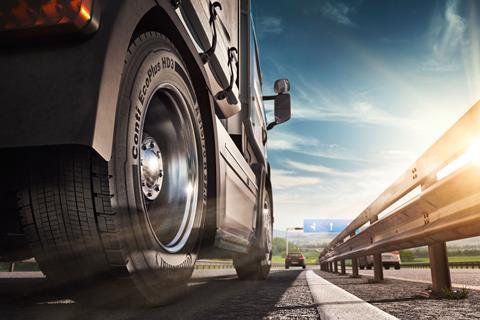 With the EU Commission's standardised emission testing for HGV manufacturers (VECTO), designed to help the road transport industry meet CO2 reduction targets, the role of tyres in lowering emissions becomes very clear.
The VECTO measurement tool was developed by the EC to standardise emission testing for heavy duty vehicle manufacturers and has an obvious impact on OEMs, driving development of fuel-saving technologies, and creating greater transparency in the truck buying process.
Ahead of this year's Freight in the City event, Continental looks at what VECTO means for fleet operators, and how tyre choice can have a positive impact on truck emissions.
The impact of tyres on overall operating costs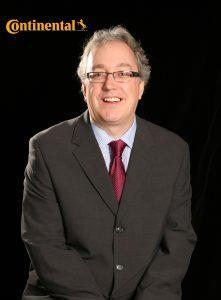 Steve Howat (pictured), general manager – Technical Services, Continental Tyres, said: "Tyres have a major influence on CO₂ emissions and can impact up to 40% of fleet operating costs when considering the fuel consumption influences they also potentially provide.
"This impact is so important and tyre characteristics are one of the key categories on the truck which VECTO measures. More specifically, VECTO requires calculation of a tyre's fuel economy capabilities; its rolling resistance coefficient (RRc), along with the wheel dimension characteristics."
While existing EU tyre classifications do already require some rolling resistance information, this is given within a set range. The VECTO certification goes further, measuring the exact rolling resistance value of the tyre as part of a broader whole vehicle calculation, making for a far more specific result.
Howat added: "The introduction of VECTO means tyres designed with lower rolling resistance may be prioritised for fitment at Original Equipment level for the overall CO₂ saving they can bring. In turn this is driving tyre manufacturers to design tyres with increasingly lower rolling resistance coefficient figures to meet this need."
Does lower rolling resistance help reduce overall truck emissions?
Tyres with lower rolling resistance reduce lost energy created as the tyre moves under the weight of the vehicle, via the elastic characteristics of the rubber. This has to balance with other tyre requirements such as tyre durability e.g. tyre wear.
Howat said: "For tyre manufacturers, the challenge is to make sure that the conflict between tyre wear performance and rolling resistance is bridged to ensure fuel consumption benefits from energy efficient tyres are not negated by a need for more frequent replacement.
"The answer is to continuously develop even higher levels of rubber compound technology along with improvements to tyre contour, pattern and tyre construction."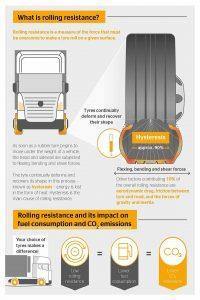 While the EU regulations and VECTO are primarily designed for vehicle manufacturers, Howat added its implementation will affect the tyre selection, leading to greater complexity and potential changes to options for fleets at tyre replacement level.
"Fuel economy (rolling resistance) needs to be balanced with the life expectancy of the tyre, its retreadability and mileage, the durability and structural endurance required for its application, and vehicle comfort, noise and handling. All this needs to be considered against the all-important question of tyre cost."
To future-proof any fleet and truly manage fuel efficiency, Continental advocates that fleet managers ensure they understand which tyre works best within a specific fleet application. If the tyre suits the application, it can therefore yield the best possible efficiency.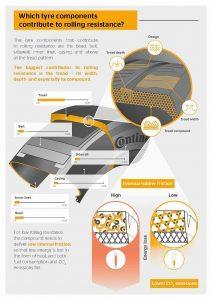 Continental recommends that fleets consider a cost optimised tyre policy which is arrived at through consultation with tyre industry experts before making a final choice.
Howat added: "Continental continues to develop new compound technologies and tyre designs of the future to provide customers with the option of "intelligent" tyres, which feature built-in sensors to monitor tyre pressure and temperature. The truth remains that even a tyre with the latest in cutting-edge technology will not perform to its full potential if inflation pressure is not maintained correctly."
Visit Continental at Freight in the City at Stand No. V50.
Freight in the City takes place on 28 September at London's Alexandra Palace. It is free to attend a features a series of seminar talks and a packed exhibition hall of the latest technolgy and vehicles aimed at the urban logistics sector. Book a free ticket today!