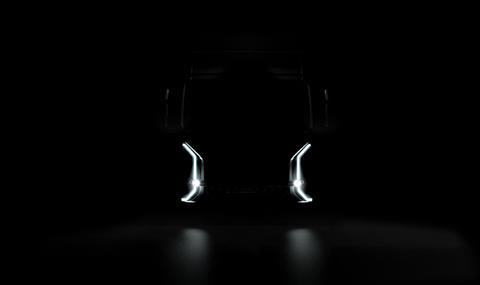 Truck manufacturer Tevva is expected to unveil an all-new electric truck at next week's Freight in the City Expo in London.
Under wraps until next week, the teaser image we have seen hints at a new design language, while indicating that it offers the proven aspects of a traditional, rugged 7.5-tonne workhorse.
The British designed and manufactured battery electric vehicle (BEV) will be the first of a family of new electric Tevva vehicles from 7.5 to 19 tonnes.
The unveiling will take place at London's Alexandra Palace on Tuesday 28 September 2021 at 09:45.
Tevva has told us that the new vehicle will offer the most practical and cost-effective zero-emission freight solution available, while packing a range of up to 250km in BEV form and up to 500km with range-extender technology.
On stand V06, visitors will have the chance to climb inside the BEV's cab and learn more about its on-board technology. Tevva's product specialists and senior leadership will also be there to tell the story behind the vehicle's design.
For any business looking to achieve a net-zero goal or to dramatically reduce their CO2 emissions, the new Tevva truck could be the answer.
Freight in the City Expo takes place on 28 September at London's Alexandra Palace. It is free to attend and features a full-day seminar programme, alongside a busy exhibition hall packed with the latest vehicles and equipment you need for your urban fleet. Register today for your entry pass!