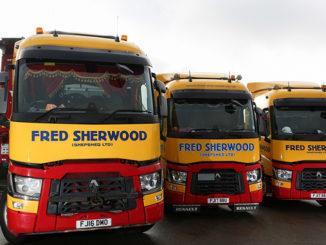 Fred Sherwood & Sons (Transport) is continuing to recover from the impact of the Covid-19 pandemic, delivering a 4% rise in pre-tax profit last year.
In its recently published annual results to 31 March 2022, the Leicestershire family firm revealed a £321,244 rise in revenue to £34,122,550 with gross profit margin increasing to 6.3%, compared to 5.6% in 2021, and pre-tax profit rising by £30,069 to £772,446.
During the year the company said it pursued a strategy of investing "heavily" in revitalising its fleet spending £1.2m in additional lorries and trailers.
The company also invested in driver training and technology which it said was aimed at boosting efficiencies, cutting the risk of incidents and reducing its environmental impact.
Read more
The firm added that it has also committed to purchasing some solar panels to reduce the company's environmental impact "which the directors feel is important."
In its strategic report to the annual results the company said that its key business risks and uncertainties are rising fuel prices and driver recruitment and retention, which it said it is dealing with by regularly looking at new options and contracts.
"This has proved to be a successful approach as the profitability of the company has been maintained year on year and is expected to continue or improve," the report concluded.
A request for further comment from the company has yet to receive a response.