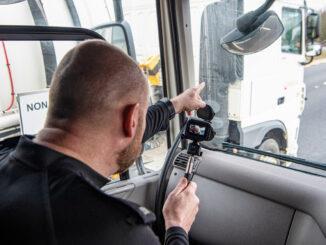 FleetCheck is helping a police operation which is monitoring HGV driver behaviour on roads across the UK, with the aim of making the country's highways safer.
The software specialist is providing free fleet management software for use in three HGVs that National Highways has lent to police forces in the North, Midlands and South of the country.
The police operation, known as Operation Tramline, uses the elevated position of the three HGV cabs to better monitor lorry driver behaviour.
Since launching, more than 31,000 offences have been recorded, with the most common being mobile phone use, not wearing a seatbelt and the driver not being in control of the car.
Read more
The software provided by FleetCheck enables safety and compliance checks to be carried out by drivers of the tractor units using an app both on first use and on handover to other drivers.
Peter Golding, MD at FleetCheck, said: "Operation Tramline is one of the most interesting and effective road safety initiatives that we have seen and we are very pleased to be able to help support the initiative with our software.
"Police fleets generally have limited or no experience of operating HGVs and our app-based approach means that they can be walked through essential compliance checks, creating an auditable trail that shows the vehicle is in roadworthy condition."
Mark Cartwright, head of commercial incident prevention at National Highways, added: "National Highways has ambitious targets to reduce the number of people killed or injured on the strategic road network and the work of Operation Tramline in both identifying instances of unsafe driving and drawing attention to them is a key component in reaching these goals."