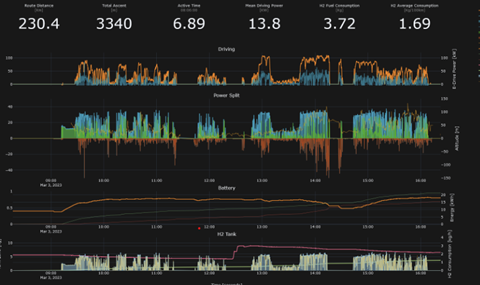 First Hydrogen said its hydrogen fuel cell-powered LCV gave fleet managers a zero-emission vehicle that delivered on range, payload and fast refuelling after performance data results were better than predicted.
In the first phase of testing, its LCVs accumulated 6,000km on UK roads and the data supported its simulations, which exceeded a 500km range.
First Hydrogen added that the vehicles were performing with excellent efficiency, including both urban, extra urban and highway operations.
Its fuel cell vehicle fuel consumption figures were said to be under 2kg/100km in many driving scenarios and in mostly urban driving they were 1.5kg/100km.
Read more
"We're thrilled that initial road testing has shown that the vehicle is not only meeting performance requirements but exceeding the early expectations we set for real world driving," said Steve Gill, chief executive First Hydrogen Automotive.
"The efficient fuel consumption means that our vehicle can go further on a single tank of fuel. This will save drivers time with fewer refuelling stops and lower running costs, reducing total cost of ownership, which will make our LCVs more attractive to fleet operators and potential customers."
For more stories tracking the industry journey to decarbonisation see our new Freight Carbon Zero website.