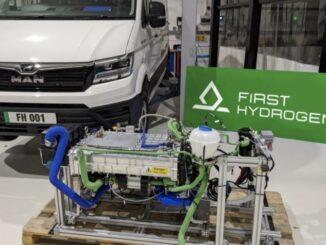 First Hydrogen has appointed Stephen Pendrey as chief engineer of its automotive division's vehicle programme.
Pendrey is tasked with managing First Hydrogen's program engineering and development activities as well as supporting the company to meet its ambitions to mass manufacture fuel cell electric vehicles (FCEVs).
The company said Pendrey's appointment to its UK-based technical team "signifies further growth and commitment to delivering the brand's first hydrogen-fuelled, zero-emissions utility vehicles".
Pendrey brings 35 years of experience in product development for the automotive sector, having led multinational teams and been commercially responsible for a range of international projects with brands including Jaguar Land Rover, Daimler Trucks and Volvo.
His most recent role was as automotive programmes director at Belcan Global Engineering which saw him establish and grow the UK Belcan automotive division.
Pendrey has worked on a number of electric vehicle projects, developing products including high-performance sports cars, light-duty trucks, buses and military vehicles.
Read more
Prior to Belcan, he was European programmes director at Tata Technologies, part of the Tata Group of companies, where he was responsible for all major deliverable-based programmes worldwide.
Steve Gill, director and chief executive of First Hydrogen Automotive, said: "We're delighted to welcome Stephen aboard. We were hugely impressed with his strengths as a team leader, communicator and project manager.
"He brings knowledge and expertise across the complete product development process, having led teams to successfully deliver many high-value, complex projects.
"His experience in supervising the build of simulator and prototype vehicles from concept, will also prove invaluable in our next milestone – the development and delivery of our hydrogen fuel cell demonstrator vehicles, which enter road testing in just a couple of months, and which will be available to prospective customers for road testing in September 2022."
Pendrey added: "Zero emissions and the role transportation plays in carbon reduction is a huge and complex challenge for the automotive industry, so it's fantastic to work with a brand developing a direct solution and a proven team of automotive professionals.
"I am excited to help drive First Hydrogen forward in the development and roll-out of its first hydrogen fuel cell commercial vehicles, drawing on my skills and experience to deliver high-quality products to market."