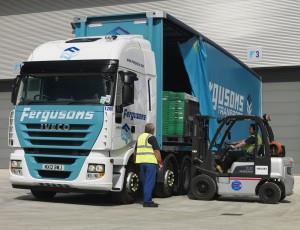 Fergusons Transport has hailed its "very satisfactory" trading figures and thanked its staff for their exceptional work that got the Cramlington business through the pandemic.
The haulage and warehousing company saw turnover increase by 17.3% to £24.5m in the year ending 30 September 2022.
Pre-tax profit also rose significantly to £477,000 from £255,000 the year before and, due to a deferred tax reversal, it reported an after tax result of £623,000 during the period.
"This is regarded as a very satisfactory result after a very challenging two years, which had an impact on our achievements in those years," it said in a review of the business.
Read more
"These results also reflect the benefits of the exceptional work of all of our employees through this difficult period."
Fergusons said its warehousing arm benefited from customers requiring it to hold and handle their goods for longer as they built up their production capacity, which led to turnover in this area of the business increasing by £896,000 during the year to £4.6m.
"The resurgence of the increasing production by our major customers bodes well for the company as the current capacity enables their demands to be met," it added.
"The levelling up agenda adopted by the government in the regions in which we are well represented will enable the company to benefit from providing services to meet the demands which these new businesses will require."