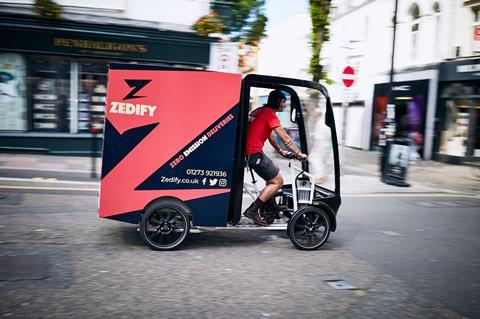 Delivery firm Evri, formerly known as Hermes UK, is trialling an electric-powered delivery solution in Bristol with last mile innovators, Zedify, using pedal-powered electric vehicles such as cargo bikes.
Early data from the trial shows a 13% increase in efficiency, according to Evri, plus a 98% reduction in carbon in the final mile when delivered by bike compared to a traditional van delivery, aided by an increase in volume. The estimated carbon saving figure in the final mile would be 62kg co2e per week, the company added.
Zedify is one of a number of sustainable delivery models that Evri is partnering with to support its commitment to becoming the UK's most sustainable delivery business. Last year, the company teamed up with vehicle manufacturing giant Ford, to pilot a sustainable courier service in central London designed to support cleaner air and clearer roads through a unique set-up of delivery vans, pedestrian couriers and smart software.
Carl Lyon, COO at Evri, said: "We're exploring innovative delivery partnerships like this to see how they can play a role in our goal to create a network of sustainable delivery options to complement our current courier model.
"We already have the lowest carbon emission of any dedicated parcel delivery company and one of our company targets for the year is to introduce alternative zero-emission transport methods in our final mile. We're excited by what we've seen so far and look forward to the results of this and other trials."
Read more
James Nellist, COO at Zedify added: "We're thrilled to be supporting Evri on their sustainability journey. It's fantastic to see a leading parcel carrier embracing an innovative approach to sustainable urban logistics.
"Zedify offers a genuine, scalable alternative to diesel vans and EVs in cities; as demonstrated by this trial, it's not only the dramatic cuts in emissions which stand to be gained, but with a 13% increase in productivity, cargo bikes are proving they can keep last mile costs under control, too.
"We look forward to expanding the partnership into our network of UK cities, to achieve even greater efficiencies for Evri and their customers."