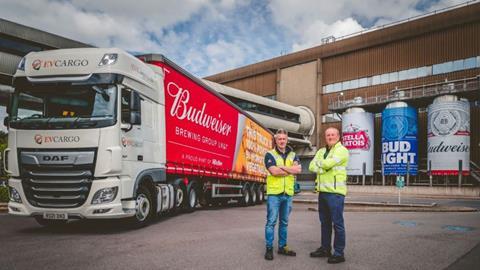 EV Cargo is replacing diesel with hydrotreated vegetable oil (HVO) in 25 of its trucks at client Budweiser Brewing Group's Magor brewery in Wales.
The move will deliver an immediate cut of 92% in CO2 emissions. The company also plans to double the number of trucks using HVO at the depot later this year.
The scheme is part of Budweiser's plans to reach net zero at its UK breweries by 2026.
Virginia Alzina, EV Cargo's chief sustainability officer, said: "As a member of the Science Based Target Initiative and a signatory to the UN Global Compact and its sustainable development goals, EV Cargo has powered the introduction of sustainable initiatives for many of its key customers to help reduce carbon emissions associated with their distribution operations.
Read more
"We are proud to help Budweiser Brewing Group and AB InBev further decarbonise its supply chain as part of the net zero strategy."
Mauricio Coindreau, director of procurement and sustainability at Budweiser Brewing Group UK&I added: "We are excited to be pioneering the use of HVO at our Magor brewery, which will result in significant reductions in CO2 emissions across our UK operations, highlighting the importance of green logistic initiatives.
"The theme of this year's Earth Day is investing in our planet, and as a leading brewer, we're proud to continue investing in sustainability initiatives that also protects our planet and the people in it."
Alongside its global sustainability goals, Budweiser Brewing Group UK&I also aims to brew the UK's most sustainable beers.
The company already brews every can, bottle and keg in the UK with 100% renewable electricity from its own wind turbine and two solar farms.