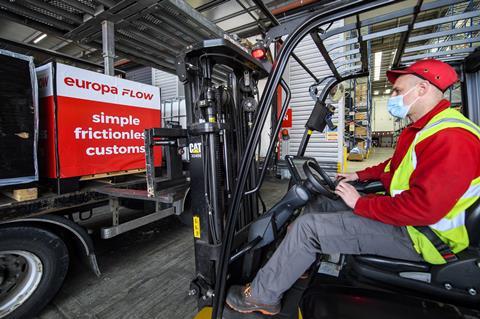 Europa Road has shipped 30,000 Europa Flow consignments in the four months since its launch in January, exporting goods worth an average of £60m each month in the period, according to parent company Europa Worldwide Group.
Customs service Europa Flow aims to facilitate exports to the EU on Delivered Duty Paid (DDP) terms. It eases Brexit red tape for UK exporters' EU customers by removing their need to appoint a customs broker, complete import declarations, or pay import duties, whilst the process zero rates the import VAT. It was developed ahead of the UK's departure from the EU on 1 January this year.
The group said Europa Flow has attracted a broad range of customers on a daily basis since its launch on 1 January this year. These range from manufacturers exporting parts and machinery to Europe to sports, toys, and biscuit manufacturers.
Dionne Redpath, Europa branch network director said: "Europa Flow offers customers a smooth solution for the delivery of goods anywhere in Europe in a way that allows them to protect their EU customer base. With 30k consignments under our belts, it's now a well-established and proven process."
She added that the total value of duty deferred, which Europa Flow is managing or paying on behalf of customers then rebilling, is currently around £1.8m per month, and is expected to rise as Europa takes on "significant numbers of new clients per week".
Read more
She continued: "As a result, we have seen a huge increase in volumes from our customers because they've experienced the seamless, hassle-free service. After the work that the whole team has put into creating Europa Flow we're delighted with the volumes we're delivering."
Other investments made by Europa, ahead of Brexit, include a £2m investment in its Dartford transit warehouse to increase racking capacity by 75% and a further £3m on consultants, IT, recruitment and training.
Europa Worldwide Group has six divisions – Europa Road is one of six Europa Worldwide Group divisions which include Europa Air & Sea, Europa Showfreight, Europa Warehouse, Europa Contact Centre, and Continental Cargo Carriers.