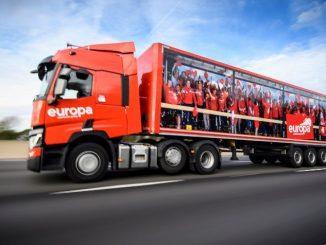 Turnover and profit were maintained at Europa Road last year, despite Brexit uncertainty and pandemic-related restrictions.
The latest financial results for the company in the year ending 31 December 2020 showed revenue was broadly static, at £119.6m compared with £119.9m in 2019.
Pre-tax profit was virtually unchanged at £5.5m.
The company, one of six divisions that make up the Europa Worldwide Group, said it was pleased with the performance and that it had seen growth in both revenue and profitability during 2021 and it expected this to continue into next year.
In a review of its business, Europa Road said: "The coronavirus pandemic has led to various worldwide restrictions being imposed on the movement of goods and general business operations.
Read more
"Whilst this presented some uncertainties, the company has been able to continue trading profitably, albeit at a reduced level than originally forecast."
It said the directors had worked to manage pandemic-related risks and implement working practices to mitigate risks to staff and the business: "This has included utilisation of government schemes that have been made available," it said.
"Despite the pandemic in 2020 the company maintained its profit and revenue compared to the previous year, which the directors felt was an excellent result considering the difficulties during Covid-19."
In January, Europa Road launched Europa Flow, which is designed to minimise post-Brexit transit time delays: "This has given us a competitive advantage in that we deal with all VAT and duty clearances on our customers' behalf," it said.
"This has given us additional income flows for custom charges and use of our deferment."