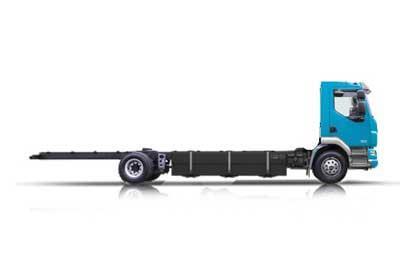 Dutch vehicle converter Emoss is heading to next month's Freight in the City Expo in London to demonstrate how its range of electric trucks can help with addressing both emissions and noise restrictions in city centres.
Based on rigid chassis spanning from 7.5 tonnes GVW through to 28 tonnes GVW, the conversions can be made to any make of truck, either straight from the factory or as a retrofit option on older fleet vehicles.
Emoss have also developed a range-extender for a 50-tonne tractor unit giving it a range between 900km and 1,000km.
On show at Alexandra Palace will be an 18-tonne converted Daf chassis cab, with a 200kW battery pack enabling a range of 240km on a charge time of around 4.5 hours.
Emoss is looking to use the Freight in the City Expo as a springboard into the UK market, which it turned its attention to following London's plans to introduce an Ultra Low Emission Zone in 2019.
"We'd like to gauge reaction to the vehicle at the show and see what people think when they come and have a look at it," said Vernon Edwards, business development manager at Emoss UK and Ireland.
He added: "The UK is a market we're looking to break into. We have got a 7.5-tonne vehicle in build at the moment and that's going to go off to a company in Ireland to have a toilet cleansing unit fitted on the back, which will then go into Heathrow and service the airlines by emptying the aircraft toilets.
"There's a big demand for low-emission vehicles at Heathrow."
He added that Emoss is also working on both a three-axle and a two-axle vehicle based on a Volvo chassis for use by a catering company to deliver in-flight catering supplies to aircraft, as well is in talks with the London bus and coach sector on conversion possibilities.
Cities across the rest of the UK, such as Bristol and Southampton, have also expressed interest with Emoss about trialling electric vehicles on their own municipal fleets.
For visitors to its stand at Freight in the City, Emoss will be happy to provide guidance about possible funding sources for converting fleet vehicles, as the company said EU money can be available if the right business case is put forward.
It added that choosing to retrofit an older, more polluting vehicle can be a cost-effective investment for smaller operators that may lack the funding to replace their fleet with new vehicles.
"This may be a better investment for an operator who might have a five- or seven-year truck with a terrible emissions standard. We can take the engine and the gearbox out, convert it to all-electric drive and it could go back into service emission-free," Edwards said.
Make sure to book your free place today to attend the urban logistics show of the year, Freight in the City Expo, taking place on 2 November at London's Alexandra Palace.