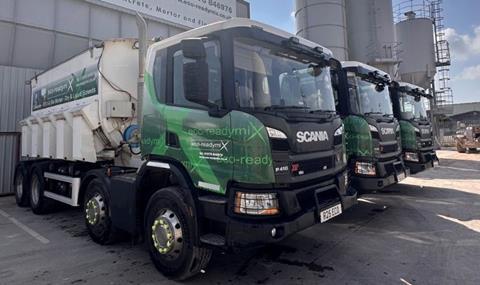 Concrete supplier Eco-Readymix said it had seen a solid reduction in tyre damage and downtime after it equipped its fleet with Michelin X Works tyres.
The company is transitioning to Remix X Works XDY 315/80 R22.5 on the drive axle and X Works HD Z 315/80 R22.5 on the steer axle of its 30-strong fleet.
Carl Weeks, Transport and operations manager at Eco-Readymix, said: "Our vehicles are transporting building materials across rough terrain at construction sites and we were having too many punctures and problems with our previous tyres.
"We decided to switch to a Michelin tyre policy, which offers a quality product and peace of mind with the tyre damage guarantee – and it's really paid off."
Weeks added: "If we put a set of Michelins on a truck, we're not going to see them come off for at least 18 months, maybe two years. The combination of robustness, improved performance and longevity of the X Works range is really benefitting our business thanks to the significant increase in vehicle uptime."