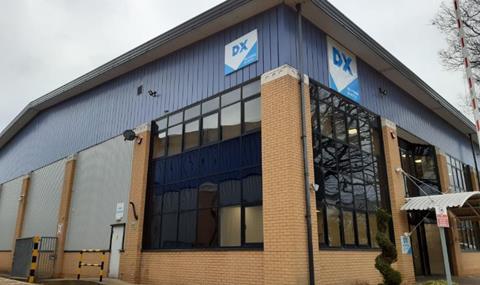 Parcels and freight group DX is opening two new depots in Bracknell (pictured) and Swindon, taking its site openings to six in its current financial year.
Both sites will serve the group's DX Express division and focus on its parcels operation, which provides highly-secure, tracked B2B and B2C deliveries.
The openings come as DX reported "strong" growth at the division, which it said is a major area for expansion.
The Bracknell site is located on Eastern Road Industrial Estate. It also provides a new dedicated regional hub for DX Express and increases capacity for both divisions, as DX Express previously shared a site with the group's DX Freight division.
The site in Swindon is located on Rushy Platt Industrial Estate, and replaces a smaller DX Express depot in the area with substantially larger facilities.
Read more
DX said both sites will improve operational efficiency, increase the division's local presence and create closer customer engagement and higher service levels.
The new site openings are part of the group's ongoing £20m-£25m investment programme, and the group is planning further depot openings in the remainder of DX's current financial year, which ends 1 July 2023.
DX is also continuing to invest in new fleet, including electric vehicles, parcel-handling mechanisation and new technology.
Paul Ibbetson, DX Group chief executive officer, said: "These new depots support DX Express's continuing growth, and in particular Parcels' expansion.
"Our parcels activity has grown significantly in the last two years, and these new depots will increase capacity, improve efficiency and enhance the division's customer service levels. We will be opening additional new depots over the remainder of the current financial year."