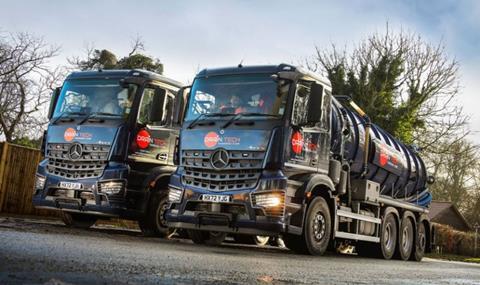 Andover-based Draintech Tankers said it had been so impressed with the Mercedes-Benz Arocs it ordered from Marshall Truck & Van three three months ago that it has added another pair to its fleet.
In the face of soaring demand from customers, director Robert Simpson said he resolved last year to take a fresh look at vehicle sourcing and maintenance arrangements with a view to reducing the amount of time its trucks were spending off the road.
Having recently undergone a £1m upgrade that included an extension to the workshop, Marshall's facility on the town's Walworth Industrial Estate made a positive first impression.
"I could see immediately that the Arocs was a quality product and well suited to our work, while Marshall Truck & Van's proximity to us was also a big attraction," Simpson explained.
Draintech Tankers specialises in emptying septic tanks, cesspits and sewage treatment plants, for customers located across the Test Valley area of west Hampshire.
It also provides a variety of associated services such as high-pressure jetting and drain unblocking, clearing grease traps and oil interceptors, repairing pumps, and installing drainage.
Acquired with funding support from Daimler Truck Financial Services, the two vehicles that entered service last autumn both have ClassicSpace M-cabs and are fitted with stainless steel vacuum tanks by VJ Engineering, of Rugby.
Each is also equipped with a Jurop RV520 hydraulic drain pump, washdown jetting system, full opening rear door, and stainless steel storage trays and lockers.
One is an 8x4 Arocs 3248 with 12.8-litre in-line six-cylinder engine producing 350 kW (476 hp). This truck, which carries a 4,200-gallon tank, is in ENA configuration, with single front steer axle, double-drive bogie and rear steering axle.
The other, a 6x2 Arocs 2542 variant, is powered by a 310 kW (421 hp) version of the same 'straight-six' as its larger stablemate. This truck has a 3,200-gallon tank and is also equipped to pull a tri-axled drawbar trailer on which is mounted another tank with 3,000-gallon capacity.
"Since shortly after they arrived both have been on 24-hour hire to our local water supplier, helping to deal with parts of the drainage network that have experienced very high flows with all the heavy rain we've seen in this region," Simpson continued.
"These are still relatively early days but we're very confident that we've made a wise choice. The Arocs are performing strongly while the feedback from our drivers has been extremely positive, with the comfortable, well-equipped cabs coming in for particular praise.
"I spend most of my time in the office now but I started 'on the tools' so I know very well that having the best equipment can make working life a lot easier. The axle set-up on the eight-wheeler is especially useful in this regard, because of the enhanced manoeuvrability it offers. Coupled with double drive, it means the truck is very well suited to jobs on local farms where access can be tricky."