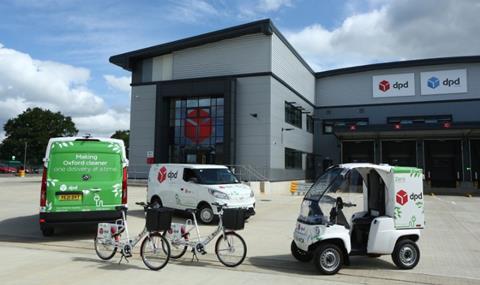 DPD will provide drivers with a portable powerbank they can take home to charge their vans overnight and help avoid reliance on public charging infrastructure.
The trial will take place at the parcel firm's Bicester depot and allows staff to take home an OnCharge ZIR0 prototype charging system, which charges up a vehicle 100% by the start of the driver's day.
DPD said the OnCharge system has the potential to provide a solution to drivers that don't have access to off-street parking.
The trial will allow OnCharge and DPD engineers to gather data and review driver feedback and it will also provide insight into potential integration with DPD's Bicester on-site solar panel array.
Read more
Olly Craughan, head of sustainability at DPD, said: "It's fantastic to work with OnCharge to try this system in the real-world. Working together will give us the opportunity to really understand the impact it can have on our drivers, first-hand.
"It allows both us and OnCharge to see how the system works under different scenarios and allows our transport and sustainability teams to explore how an agile powerbank model can amplify our investment in EV and on-site renewable generation."
Philip Clarke, chief executive at OnCharge Energy, added: "In terms of productivity, the most efficient time to charge a commercial EV is overnight, but around 70% of fleet van drivers can't charge at home.
"We believe that a take-home powerbank that you can collect at the end of the working day could revolutionise commercial EV fleet management and help encourage more drivers to switch to EVs."
For more stories tracking the industry journey to decarbonisation see our new Freight Carbon Zero website.