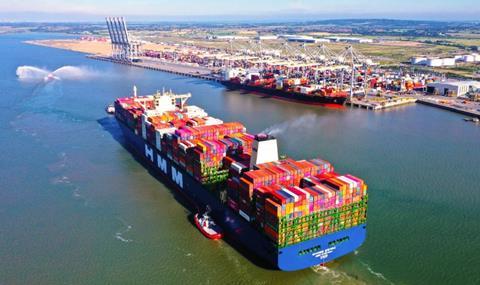 DP World handled more than one million TEU at London Gateway in the first six months of the year – a record for the port.
Between January and June, it saw throughput of 1,013,000 TEU, a 10% increase on its previous best half-yearly performance in the second half of 2021.
The port owner said the performance was driven by a new international service, coupled with strong throughput from existing customers.
Read more
DP World said this performance contributed to a record volume of cargo for all its UK ports, with a combined total of 1,937,000 TEU when taking into account throughput at Southampton container terminal.
Ernst Schulze, DP World UK chief executive, said: "This record performance illustrates our capacity to expand customer choice by introducing new sailings while continually improving our capability to deliver first class services for all existing customers.
"We expect our UK business to continue to grow, fuelled by our rapidly expanding port-centric logistics park at London Gateway, one of the biggest facilities of its kind in Europe."