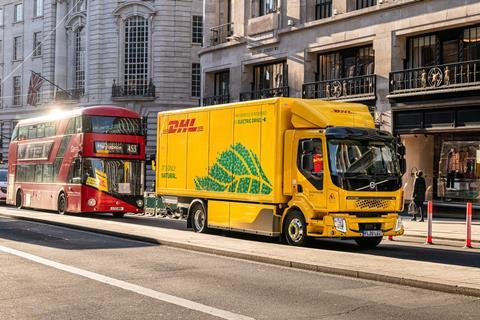 DHL has launched Green Carrier Certification through its primary UK sub-contractor DigiHaul.
The programme helps identify sub-contractors that are already contributing to sustainable logistics, while encouraging even more investment in green technologies to reduce carbon output.
DigiHaul manages a network of 750 carriers on behalf of DHL, who will all be invited to take part in the certification programme.
DigiHaul will be responsible for encouraging participation, conducting the assessments and managing the certification process.
Carriers will be assessed on whether they have an environmental or sustainability strategy in place, as well as their ability to measure their carbon footprint and share their data.
In addition, the assessment will look at features of their fleet - from basic technologies such as low rolling resistance tyres, aerodynamic enhancements and idle cut-off, to advanced green technologies such as sustainable fuels and alternative drivetrains.
Read more
The process will result in carriers being awarded one of four levels of certification: 'Pass', 'Good', 'Excellent' and 'Outstanding'. The categorisation will enable DHL and its customers to choose greener services and create an additional decision point for future transport tenders and assignments.
Tutu Akinkoye, GoGreen Lead, DHL Supply Chain UKI said: "Visibility of transport carriers' emissions, key to delivering Science Based targets, has been a challenge to date. DigiHaul has the data collection and processing capabilities to manage the certification programme, as well as strong relationships across the carrier community to encourage even more effort from everyone in our industry."
Martin Willmor, chief executive, DigiHaul, added: "It's vital that everyone involved in road transport is on the same path towards a more sustainable future. The certification programme is a great way of recognising the efforts of those who are already making positive changes, as well as motivating and onboarding others who are a little further behind."
The certification is a Deutsche Post DHL Group initiative being rolled-out across all DHL businesses. Deutsche Post DHL Group has a target to reduce greenhouse gas emissions to below 29 million tons by 2030 and net-zero by 2050.
The introduction of the DHL Green Carrier Certification is one of many initiatives that Deutsche Post DHL Group has launched as part of its sustainability strategy. To reduce CO2 emissions in line with the Paris Climate Agreement, the Group is investing €7bn in climate-neutral logistics solutions through 2030.
The sustainability roadmap includes, for example, programs for the purchase of sustainable fuels in air and ocean freight as well as line haul, the electrification of the last mile delivery and building climate-neutral logistics sites and warehouses for operations.
Ground transport accounts for 21% of the Group's total CO2 emissions. As such, reduction of emissions across the company's sub-contractor network is critical and will support DHL's own investment in its own fleet.