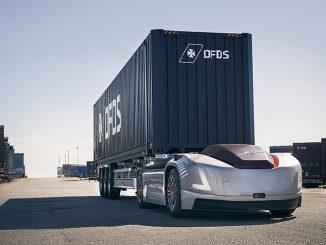 DFDS is launching a new unaccompanied freight service between Sheerness and Calais on 1 June.
The freight-only service will offer one sailing per day in each direction and carry up to 165 units on each trip.
The new route expands DFDS' existing network of services between the UK and Europe and comes in response to growing demand for unaccompanied freight services.
Motor Transport recently reported on figures that showed more than one million trailers are travelling between GB to Europe and classed as unaccompanied.
Wayne Bullen, DFDS freight sales director, said: "We're really pleased to be adding a new unaccompanied freight service to the extensive route network that DFDS already offers. Sheerness benefits from excellent road links and is closer to the M25 than other routes, making it ideal for goods heading to the London area and the Midlands.
Read more
"Launching a new route at this time is a strong indication of our commitment to our customers, our confidence in the popularity of DFDS services and an investment that will help to boost both the UK and French economies."
Richard Goffin, port director at London Medway, of which Sheerness Port is a part, welcomed the new service and said it had spent the last year "Brexit-proofing" its ports: "The combination of challenges posed by Brexit and Covid-19, has exposed drivers and haulage companies to vulnerabilities in supply chains worldwide," he said.
"This has resulted in many cargo owners and carriers re-assessing their transport plans and choosing different ports, different shipping methods, and switching transport modes in order to preserve supply chains.
"Given current restrictions surrounding international travel, stricter border controls and Covid-19 threats, one of the most standout benefits is that by using driverless methods, the risk of delays associated to those particular challenges is reduced."
DFDS said it would provide further information, including a detailed sailing schedule for the route, shortly before the service starts.