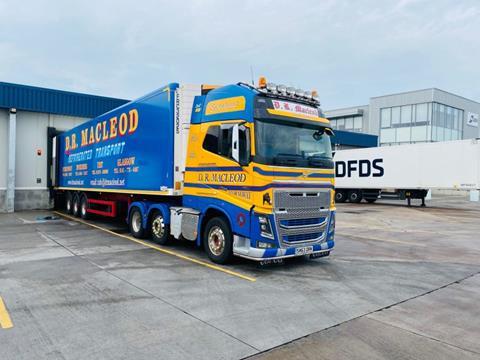 DFDS Logistics has acquired Highlands haulier D.R Macleod and pledged to continue its services to local communities.
In a statement on social media, DFDS confirmed that an agreement had been reached to transfer the transport firm over to its control: "D.R. Macleod has run a successful business on the Scottish Highlands and Islands for over 40 years and it's a privilege that we can continue D. R. Macleod's dedication to impeccable service whilst offering a wider logistics service to our new and existing customers," it said.
"We look forward to welcoming all of our new colleagues to DFDS in the very near future."
Donald 'DR' Macleod established the iconic haulier from Stornoway on the Isle of Lewis and his distinctive liveried fleet supplied goods to the 27,000 people and businesses on the Outer Hebrides.
Read more
Macleod passed away in 2022 after a short illness and in a statement posted on the haulier's website, the Macleod family said in 2019 he was in advanced talks with DFDS to take over the running of his business.
"Had it not been for the outbreak of the Covid-19 pandemic the deal would have likely already concluded in 2020," the family said.
"Although, unfortunately, D.R. is no longer with us, we are now continuing on with his plans to pass the running of the haulage business to DFDS.
"We too believe that DFDS will be suitable stewards for the business going forwards. We feel they share the same values that we do, both as employers who will continue looking after the workforce of whom we are very proud, and as a business that will support and serve local communities with the high standards of service we have prided ourselves on."
The statement added: "Business will continue as normal and customers should see no disruptions to the services we provide as we transition the business into the hands of DFDS.
"You will also still see our yellow and blue colours for some years to come. We will be continuing to work with DFDS over the coming months and support them going forward."
Neither DFDS nor the haulier were available to comment.