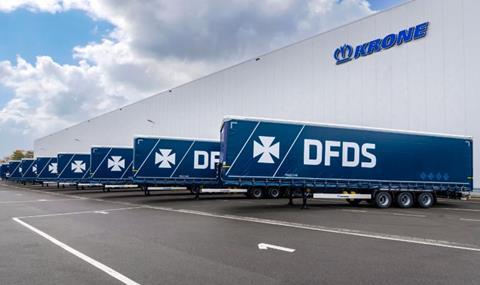 DFDS Logistics has returned to Krone for a "significant" number of trailers in what it describes as a "major expansion" of its European trailer fleet.
The company, which uses around 10,000 trailer and container units on 24 ferry routes, has ordered a mix of Krone Huckepack Profi Liners, Mega Liners, Cool Liners and Box Liner container carriers.
DFDS equipment director, Keith Sutton, said: "This is all about choosing the best trailer equipment to match individual customer needs.
Read more
"In particular, the loading flexibility of every Krone trailer enables DFDS to maximise utilisation for our customers while ensuring each consignment is transported and delivered with assured load security."
The Krone Mega Liners were chosen by DFDS for their flexible loading features, including raise and lower sliding roofs, moveable side posts, full width rear access and Krone's Multi Safe loading system, which has multiple strapping points located every 10cms along each side rave.
Sutton said the order for 200 Huckepacks, also included in this latest consignment, were chosen for their integration with both road and rail, which will help reduce road miles.
"The trailers fit well with our sustainable multimodal logistics network and help to reduce environmental impact," he added.