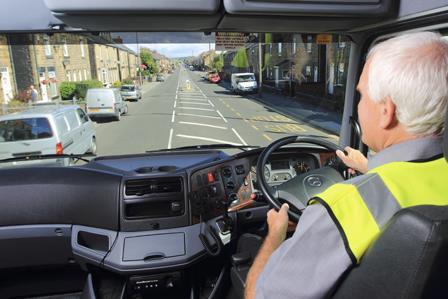 An apprenticeship in urban driving which aims to resolve the HGV driver recruitment crisis in the long term has taken a major step forward after the overseeing body approved its development.
The move follows the go-ahead for an HGV driver category C+E apprenticeship earlier this year and the hope is that both will help encourage new entrants to the industry.
The transport and logistics Trailblazer Group (TBG), which developed the plans for both apprenticeships, said the next step was to get the urban driver apprenticeship standard, as well as its end point assessment, finalised.
Jim French, TBG co-chair, said that following months of delays there now appeared to be some urgency at the Institute for Apprenticeships and Technical Education (IATE).
"What has been approved is our proposal to go ahead with it," he said. "We are now in a position where the institute is pushing this. Now we have a decision, it's all hands to the pump to get it in - certainly before Christmas."
In a letter to French, IATE deputy director Jane Pierce said that when the apprenticeship was finally approved, it would review both its performance and that of the HGV driver apprenticeship in 18 months.
"Given the shortage of urban drivers which you emphasised in your presentation, the institute is committed to working with you to an accelerated timeline, to ensure the apprenticeship is available as soon as possible," she said.
French added: "These apprenticeships are a means of training people. Employers want people with a bit more experience. It makes them more equipped to do the job."
An IATE spokesman said: "We are delighted to confirm that this apprenticeship has been cleared for development following constructive consultation with industry experts.
"We're now looking forward to working with employers on the Trailblazer Group on a first-class training programme that can help to address driver shortages."