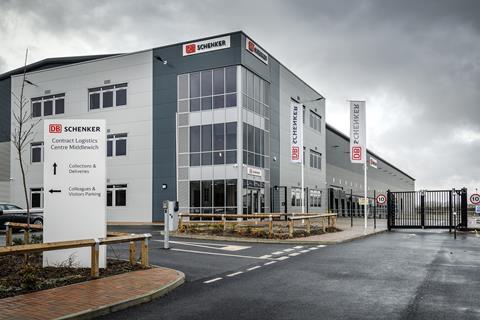 Logistics firm DB Schenker has sealed a deal with electrical manufacturing giant Siemens to provide production logistics support for its oldest UK manufacturing site.
The deal marks the first time DB Schenker has been chosen to operate warehouse facilities for a Siemens site in the UK.
Under the terms of the contract DB Schenker will support the Siemens factory in Congleton, Cheshire, which produces variable speed drives. More than a million units are assembled each year, for a wide range of industrial applications.
DB Schenker's purpose-built 124,000 sq ft depot in nearby Middlewich will handle inbound deliveries of components for the Siemens factory, storing them securely and ensuring the required items are always available when needed. The items will then be transported on the 12-mile trip to Congleton as many as eight times per day.
This latest partnership builds on DB Schenker's existing relationship with Siemens arouns the world.
Steve Cuddeford, DB Schenker contract logistics director for UK and Ireland, said: 'We are delighted to be expanding our global relationship with Siemens into the UK, further continuing our growth within contract logistics.
Read more
"From the moment we started to work with Siemens on this project we've employed a collaborative approach – this has helped to ensure a successful implementation against a very strict timeline, but also laid the foundations of an excellent relationship between our two local teams. We very much look forward to delivering excellence to Siemens over the 10-year contract term."
Cuddeford also cited DB Schenker's IT and automation capabilities, and the warehouse's green credentials, as key factors in the contract win.
Staff at the new site will make use of automatic tracking of consignments and advanced just-in-time and 'kanban' techniques – methods designed to ensure that every part arrives on the production line exactly when it is required.
Meanwhile the building itself is designated as an eco-warehouse, with A-rated energy efficiency courtesy of features including LED lighting controlled by proximity sensors, and high-performance wall insulation.
Like all DB Schenker warehouses in the UK and Ireland, it is powered by 100% green electricity from solar, hydro and wind-generated sources, by supplier SSE.
The warehouse features 16 loading bays and three level access doors. It offers 9,000 sq ft of office and welfare accommodation over three storeys, as well as a secure yard, parking and electric vehicle charging points. Thelogistics firm added that there re is ample capacity for continued growth.
Rob Matthews, head of supply chain at Siemens Congleton, said: "We are very happy to have completed the migration of our third party logistics relationship to DB Schenker.
"Our success is built on great people, continuous improvement and digitalisation, and in DB Schenker we are confident that we have found a partner that shares these values."