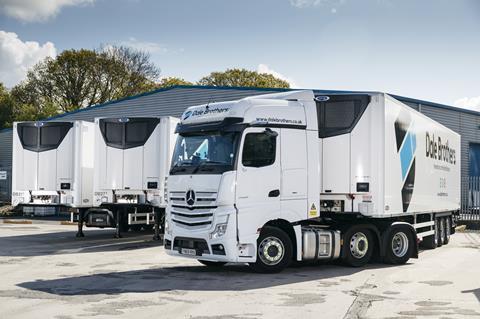 Dale Brothers UK has taken delivery of six new refrigerated trailers, each mounted with Carrier Transicold Vector HE 19 units.
The Telford-based firm said the units were chosen to help reduce running costs and improve fleet efficiency.
The six new 13.6m Chereau trailers replace older assets and eight more identical trailers are expected to be delivered during 2022.
"We first started using Carrier equipment more than 20 years ago when we bought some second-hand trailers mounted with their systems," said Neyland Dale, Dale Brothers UK MD. "We were so impressed with the performance and reliability, when it came to replacing those trailers, specifying new Carrier units was the only logical next step - and we've been doing that each time we've updated our fleet since."
The Vector HE 19 unit delivers up to 30% fuel savings when compared to the previous generation Vector 1950.
In addition, the system's hermetic scroll compressor and economiser provides a 40% increase in refrigeration capacity during pull-down, as well as a 50% reduction in refrigerant escape.