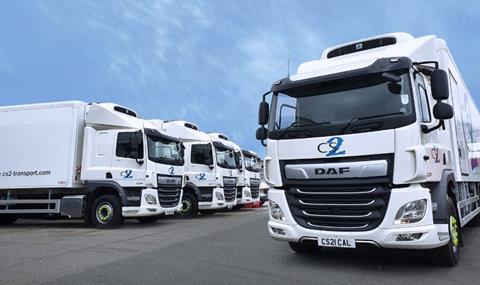 Temperature-controlled warehouse and distribution operator CS2 Transport has upgraded its 60-strong all-refrigerated fleet with the addition of four new DAF 26-tonne rigids specified with G&A multi-temperature bodies.
All four trucks feature Thermo King dual temperature refrigeration systems, supplied and installed by Marshall Fleet Solutions for the first time.
All four vehicles are now in service operating out of the company's depots in both Chesterfield and Nottingham and each vehicle will be covering more than 150,000 km per annum on a five-year contract hire deal with local Chesterfield DAF dealer A Herring Ltd that also includes full repair and maintenance contracts covering each vehicle.
CS2 Transport MD Gary Turney said: "We have a really strong relationship with A Herring Ltd as the DAF chassis is our HGV truck of choice, however for the first time, on their advice, we decided to switch to Thermo King refrigeration systems on our preferred G&A body specification.
"We were impressed by the approach that Marshall Fleet Solutions had to our business, in terms of specifying a multi-temperature system that fully met our requirements, whilst the standard two-year Thermo King warranty was a game changer for us. It certainly confirmed to us Thermo King and MFS's confidence in the reliability and performance of its products."
The four new DAF CF410 6x2 rigids are fitted with dual compartment Gray and Adams bodies and feature Thermo King T1000R Spectrum refrigeration systems. Each vehicle also has a Dhollandia DH-SK 1500 kg retractable tail lift as standard.
"All these new DAF trucks will be operating in and out of London," Turney explained, "so they have been specified with the very latest ancillary products, including Direct Vision equipment, satellite tracking and temperature monitoring."
CS2 Transport Ltd is a family run business, founded in 2004, providing customers with a 24/7/365 transport and warehousing solution, supplying all the major supermarket chains with both ambient and temperature controlled products.
Added Ian Smith, sales director, Marshall Fleet Solutions: "For CS2 to switch to Thermo King, through Marshall Fleet Solutions is testament to the proven performance of the TK multi-temperature product range. We have worked closely with both CS2 and A Herring Ltd, to ensure that these latest vehicles have refrigeration systems that fully meet their requirements.
"With high running hours, CS2 require proven reliability of the fridge system as well as an effective support service over the five years of operation. We are pleased that the switch to Thermo King and MFS for the first time felt better for them and more suited to their requirements."