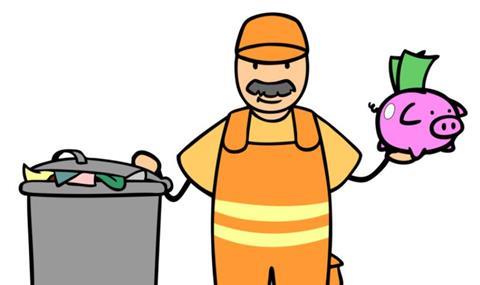 The regrading of HGV drivers working for Plymouth city council from unskilled to semi-skilled workers has added £3,000 to their salaries.
The pay deal, described as groundbreaking by the Unite union, has boosted pay among 46 HGV drivers working on the Devon council's refuse collections by 12.5%.
The union added that the move to reclassify drivers should also act as a "wake-up call" for councils across the country if they want to continue offering a fully-functioning bin collection service.
Unite regional officer Tim Morris said: "I would like to thank lead Unite rep Sharon Battishill and the shop stewards who focused on increasing the pay grade and amending the job role to gain this welcome uplift for the members.
"If you are driving an £80,000 vehicle that is a highly responsible job which has now been recognised.
"What has been achieved at Plymouth city council shows that by acting collectively, local authority drivers can be regraded onto decent pay levels - and this could be a template for members at other local authorities."
A Plymouth city council spokesman said: "We can confirm that after a review we have re-evaluated the roles of our HGV drivers.
"The move from frontline status to semi-professional recognises not only the driving aspect of the job, but also their broader responsibilities around public and crew safety."
Unite said the re-negotiated job classifications and pay increases applied from 1 January.