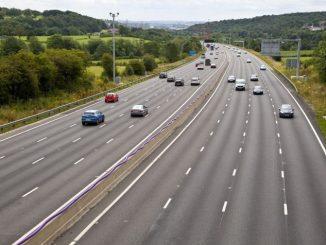 Smart motorways present "an ongoing risk of future deaths" and a review into their safety should now be undertaken, a coroner has concluded.
Following an inquest into the deaths of two men on a stretch of the M1 in South Yorkshire, Sheffield coroner David Urpeth said he would be writing to the transport secretary and Highways England explaining that the use of hard shoulders as a live traffic lane was confusing and dangerous.
HGV driver Prezemyslaw Szuba was jailed for 10 months in October last year for causing death by careless or inconsiderate driving.
Szuba had been travelling along the M1, near to Junction 34, in June 2019, when he collided with Jason Mercer and Alexandru Murgeanu, killing the two men instantly.
Both drivers had been involved in a minor road traffic collision moments earlier and they had pulled over to exchange details.
Appearing via a phone line from prison, Szuba told the inquest he accepted he had been driving without paying proper attention to the road ahead.
However, he said that if there had been a hard shoulder then the collision would have been avoidable.
Szuba also told the inquest that he had never been given any training about using smart motorways.
Giving evidence to the inquest on behalf of Highways England, Max Brown, head of smart roads, said it was "too close to call" if the collision would have been avoided if there was a hard shoulder.
But after being pressed by Jason Pitter QC, he admitted that "on the balance of probability" that the crash could have been avoided.
Summing up, Urpeth described Brown as "overly defensive" and that he did not find his evidence compelling.
He said the contributory factors in the two men's deaths were multi-faceted and included the initial collision, as well as their decision to park up on an active motorway, rather than reach an emergency refuge area.
Read more
However, Urpeth added: "I think many drivers would feel they have to stop after a collision, so although unwise, I believe it is understandable."
He said the need for training among motorists was "abundantly clear".
Urpeth found that the primary cause of the crash was Szuba's inattention, but he also said that the lack of a hard shoulder contributed to the tragedy.
Urpeth said: "I find on the balance of probabilities, Mercer and Murgeanu were unlawfully killed.
"Having heard all the evidence and carefully reflecting, I find that smart motorways present an ongoing risk of future deaths."
He said his future deaths report to the government would recommend a review of smart motorways and that this could go into what future government policy would be.
He added: "I further hope the future deaths report I will send over the next few days, that the issues are properly considered in a national context."
A Highways England spokesman said: "We extend our deepest sympathies to the families of Alexandru Murgeanu and Jason Mercer.
"We recognise this continues to be an incredibly difficult time for them.
"Every road death is a tragic loss of life.
"We are determined to do all we can to make our roads as safe as possible and are already addressing many of the points raised today by the coroner as published in the government's Smart Motorway Evidence Stocktake and Action Plan of March 2020."
The spokesman added: "We will carefully consider any further comments raised by the coroner once we receive the report."