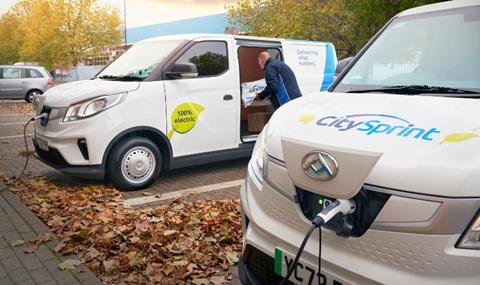 CitySprint has bolstered its EV fleet with the addition of 40 new electric vans from Maxus.
The vans, which have a range of up to 213 miles on a full battery, will add to the same-day distribution firm's expanding green fleet.
CitySprint said they had been deployed across the UK with the aim of helping to reduce pollution levels in cities in which CitySprint operates, including London, Leeds, Bristol, Manchester, Southampton and Birmingham.
As a result of the latest acquisitions, CitySprint's electric vehicle fleet now comprises 43 electric vans, 24 cargo bikes, six electric motorbikes and four electric bicycles, with the business continuing to explore ways to increase this in 2023.
For more stories tracking the industry journey to decarbonisation see our new Freight Carbon Zero website.