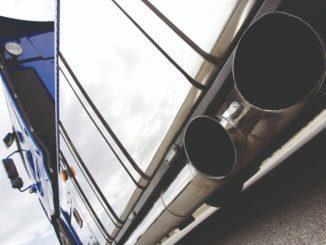 The British Vehicle Leasing and Rental Association (BVLRA) is calling on councils operating Clean Air Zones to promote leasing and rental as a way to help operators transition sooner to low emission vehicles.
The move comes in the same week that Greater Manchester Combined Authorities announced it has boosted funding for local fleet operators to £12,000 to help them upgrade their trucks to Euro-6 vehicles ahead of the launch of the Greater Manchester CAZ.
Speaking at Freight in the City's latest webinar on Fleet Decarbonisation, Catherine Bowen, BVLRA senior policy advisor, said: "It's great to see a number of the local authorities giving support to smaller businesses and helping them get into compliance vehicles. But quite often, they don't recognise rental and leasing as an option.
"The concern is that people will invest in a CAZ compliant truck that they're then going to have for 14 years or more. By leasing, people have the ability to transition more rapidly to zero-emission transport, when it becomes available."
Read more
Bowen also criticised local authorities for operating their CAZ schemes in a silo and called for them to be integrated into the wider decarbonisation agenda.
She raised concerns about the range of different charges the schemes apply, the lack of a uniform payment mechanism and the failure of local schemes to recognise that fleets operate nationally and may not be aware of local schemes.
She added that CAZ charging systems were placing a bureaucratic strain on operators. "The onus is very much on the operator to make payment for entering the zone, either seven days ahead of when they enter or six days after they've entered the zone," she said, adding that the six-day payment window was creating problems for operators.
"It is placing a huge burden on a number of fleet operators. Not having a weekly window means fleets are having to do a telematics routine twice a week to consolidate the vehicles and then make the appropriate CAZ payments, which is just a huge burden, it would have been a lot easier to put them out on a weekly basis."
To watch the Freight in the City webinar on Fleet Decarbonisation go to https://tinyurl.com/2zmtvekt