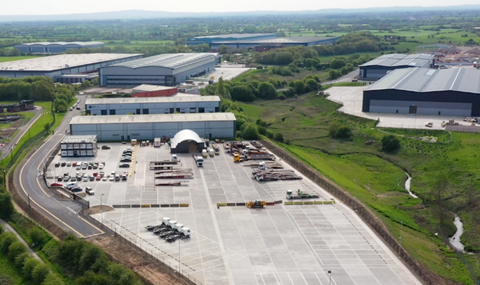 Brit European has moved into a brand new HQ in Middlewich that will enable the specialist logistics provider to operate off-grid and with carbon neutrality within seven years.
Its five-acre, 'Vita Nova Centre' consists of several eco-modular buildings utilising repurposed steel frames and feature enough solar panel technology and 3D printed wind towers to produce 60kW of renewable energy on-site.
The company said innovative ground stabilisation techniques were used from the outset, making a 40% carbon saving, as well as considerable reductions to transport costs.
Brit European added that the centre was the first in the UK to feature electrical vehicle charging points powered by compressed fugitive methane recovered from slurry pits, producing an additional 40kW.
It is also implementing a replanting scheme to support biodiversity in the surrounding area. The aim is to return the local ecosystem back to its pre-industrialisation state, with over 100 specimen trees and 200 native plants being planted, alongside bat and bird boxes.
Rainwater harvesting is also in place across the new Brit European site to reduce water usage by up to 85%.
Graham Lackey, chief executive at Brit European, said: "We are incredibly proud of the pioneering development of the Vita Nova Centre and thank all supporting parties for their efforts to make this ambitious project a reality.
"From innovative construction techniques to ground-breaking charging technology, we hope the Centre will act as a prime example to other businesses of how new premises can be developed. We look forward to operating from the site and achieving carbon neutrality within the next few years."
The HQ was officially opened by Congleton MP Fiona Bruce.