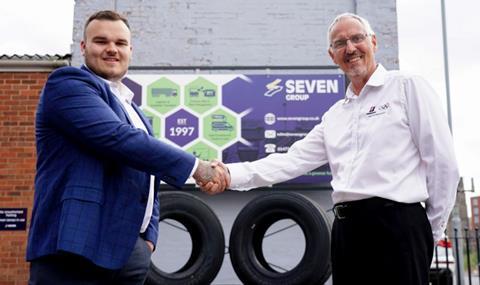 Contract hire firm Seven Asset Management has entered into a three-year deal with Bridgestone to manage its tyre programme across its range of trucks, trailers and vans.
Its reporting systems and partner dealer network were both cited as reasons for Seven Asset's decision to work with the tyre firm.
Greg Shaw, Seven Asset Management's key account manager, (pictured left with Bridgestone's national fleet executive Neil Collison) said: "We will be able to take our reporting to the next level, moving from a manual way of working to a digital system, providing greater transparency on the condition of each and every tyre.
"We were also reassured by Bridgestone's commitment to breakdowns and vehicle downtime, which have a huge impact on any fleet business.
"Many of our customers operate in particularly rural locations away from major cities and towns, but the Bridgestone partner network has great coverage, tending to vehicles almost immediately, wherever they might be," he added.