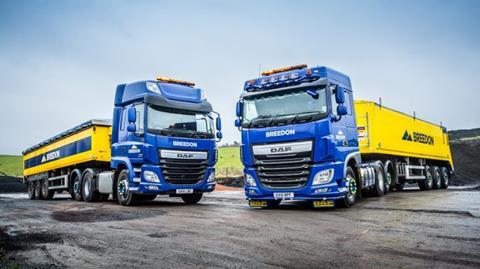 Construction and haulage company Breedon Group has partnered with skills specialist Seetec Outsource to apprentice new drivers under the Urban Driver apprenticeship scheme.
The company has recently taken on its third cohort for the scheme, which was launched in December last year.
The successful candidates will gain a Class 2 licence for vehicles weighing between 3.5 and 32 tonnes in as little as four to six months.
The Urban Driver apprenticeship focuses on short-haul journeys in towns and cities that often do not require overnight routes. It is hoped that this will attract potential candidates who may not want to work traditional HGV driver shifts.
The new apprenticeship has come into force in time for the National Apprenticeship Week which launches on 7 February and has the theme 'Build the Future'.
Kimberley Jamieson, a Breedon Urban Driver apprentice, said: "Working in the construction industry was something I wanted to do from the age of 16, however it wasn't something that was encouraged 15 years ago.
Read more
"I have also been interested in driving, and in my previous role as prisoner custody officer I was transporting prisoners and people in custody dealing with their care, welfare, and security on a day-to-day basis.
"I'd really like to help bring more women into the industry by communicating my positive experience. I feel this apprenticeship is providing me with a great opportunity to learn new skills, and it's never too late to turn your hand to something new!"
Michael Gaughan is one of Breedon's four successful drivers who achieved a distinction following the completion of their apprenticeship with Seetec Outsource in 2021. He and the rest of his apprentice cohort are now all competent relief drivers based in varying locations.
Gaughan said: "I like driving and it is a change from where I previously worked in retail management. Driving is providing me with a much-improved work life balance. I am delighted to have achieved a distinction and I am looking forward to the future with Breedon."
Lloyd DeVal, director of sector skills at Seetec Outsource, added: "Breedon is a great example of a large organisation that has embraced the flexibility and empowerment that apprenticeships bring to the workplace.
"We work closely with all our employer partners to ensure that apprenticeships are fit for use and are as compatible as possible with the demands of the businesses we support.
"The Urban Driver apprenticeship clearly demonstrates how apprenticeships are helping to tackle an ageing workforce, the pandemic and changing restrictions following Brexit."